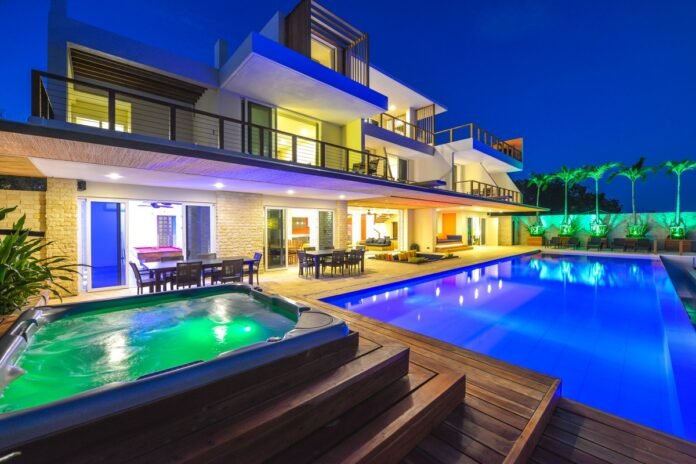 Want to upgrade your staycation? Dreaming of having your own infinity pool or Jacuzzi? How about a house party on the island of Boracay? Then worry no more! Villa Caipirinha is an essential choice for you!
Situated at Diniwid Hills in Boracay, Villa Caipirinha is your privately-owned holiday home ready for all your ultimate vacation needs! Beachfront is just 10-mins away and you need not worry about the transportation and food, having the villa for your own means you also get to own their services including transportation vehicle from the villa to the beach or vice versa and a full-time chef and staff to assist you with your requests.
Villa Caipirinha, whose name was derived from a cocktail drink – Caipirinha, is a three floors private villa with 7 bedrooms including the Master's Bedroom alone on the 3rd floor with an overlooking view of the island in its bed and bathroom side. Every room was wonderfully designed giving lively and cozy feel in every part. Each room has its own bath, wash, and comfort area, which makes living in the villa even more comfortable. All rooms have their own television set and soon, cable channels will also be available.
The third floor consists of only the Master's Bedroom. Large enough to have its own entertainment system, a king-size double mattress bed, a balcony overlooking the beach and sunrise in the dawn, a wardrobe whose size is half the bedroom area itself, a comfort room that's large enough for two people with the bath area overseeing the view of the beach, having its own waterfall system where you can adjust the water temperature for a hot or cold shower conferring to your fancy.
The second floor comprises of 5 bedrooms. The first two rooms after the stairs have its own queen size bed perfect for couples. The third and fourth room are more applicable for groups, having two queen size beds in each room. The fifth room is more for a business type, it has its own office area and table, perfect for people whose life and the job is behind their laptops. Each and every room has its own in-room bathroom and comfort room, a wardrobe cabinet, and a balcony overlooking sunrise. But still, the bathroom for the Master's Bedroom is more special.
The ground floor, ah! The greatest place in this villa after the bedrooms! What to see on the lowest floor?
Upon entry, you'd immediately be bedazzled by the interiors and its design. The powerful cuts in the area were really well-detailed and you'd know it's not just a simple architecture. I'm sure you'd immediately notice the pool area. It's an infinity pool that's overlooking the Boracay community, the beach, and the sunrise. Since Villa Caipirinha is situated in Diniwid Hills which is an elevated part of the island, you'd be overwhelmed by the welcoming views of the environment, the beautiful beach, and its other offerings.
Beside the pool is the Jacuzzi which water pressure offers a light hydro-massage and which water temperatures can rise up to 40 degrees, perfect for your hot spring fanciness. You may bring your drinks and experience an awesome evening with your friends talking about everything and anything.
After being in awe of the views from the poolside, it's time we get to tour what's on the ground floor before the pool and the Jacuzzi area.
A complete entertainment system is waiting for you in the living room area. With a full-blast speaker readily available for your party system needs or if you just simply wanted a cool tune music to ease the troubles on your mind. This speaker is extended up to the poolside for a full of fun and or relaxing experience in the villa. There also is a screen projector, suited for your presentations and moment-sharing demonstrations, or if you simply wanted to enjoy a movie in a cinema-like arrangement. The living room area also consists of truly relaxing and comfy sofa and pillows ready to take you to sleep or simply just to hang around.
The kitchen area is a delight to the eyes of those who love to cook and if you love kitchen designing, this one's a good idea for you. Though a full-time chef and staff are readily available, you may also opt to cook delicacies yourself. The dining area is a welcoming treat to your eyes too.
In the ground floor, a play area is also available where a billiards table is situated. You can play here with your friends and other bros and enjoy the day or night not having to worry about anything. You simply just get to enjoy your stay in the villa.
Did I mention a house party? Yes! Villa Caipirinha is an essential choice for you if you want to throw a private pool house party of your own!
---
Thanks to
TravelBook.ph
Juanderlust
StopSleepGo
Kimstore
Caipirinha Villa
---
Need more information about how to book this villa?
Send me a message!
[hoops name="InArticle"]