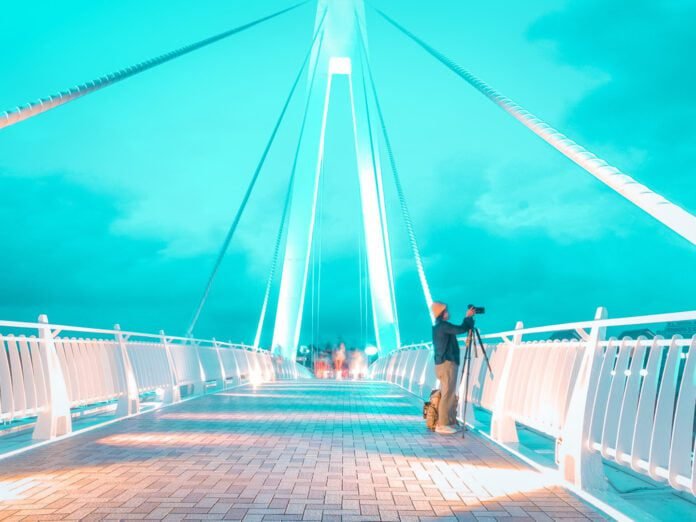 During our 9 days of touring Taipei and some parts of Taiwan, we had a good chance to see what's in the northern part of New Taipei City, the Tamsui District. We only stayed there for a night and rented off an Airbnb apartment on the 5th floor of a building near McDonald's in front of the station.
[hoops name="InArticle"]
Tamsui (Danshui) is a district of New Taipei City, in northern Taiwan. It sits at the junction of the Taiwan Strait and the Tamsui River. Near the river, busy Tamsui Old Street is lined with shops, restaurants, and vendors selling local specialties and delicacies.
What to See in Tamsui District

There are quite a few numbers of interesting places to see in Tamsui district and most of them are accessible via the bus or walking. Since Tamsui is also located on the northern edge of Taipei, boats are also being used as a mode of transportation. If you decided to go to Tamsui, here are must-visit spots you should go.
How to Get to Tamsui from Taipei?
Take the Red Line 2 to Tamsui, the northern terminal station. Upon exiting the station, turn left to reach Tamsui Old Street and the waterfront.
1. Tamsui Old Street

Tamsui Old Street is a boardwalk-like area full of stores, shops, carnival games, restaurants, cafés, and snacks corners. The waterfront area is a great spot to chase for sunset. We stayed strolled in here looking for some good food to eat and check at each item that we find interesting.
To get here, just exit the MRT Tamsui Station and walk to your left. You can also rent the Ubikes (bicycle) and enjoy the scenic view of the boardwalk.
2. Fisherman's Wharf

The Fisherman's Wharf is well known for being a great spot for beautiful sunsets and seafood offerings. According to reports, it has also been popular among youngsters due to the boat parties being held in the area. What to See in Tamsui
This place is also great for families, friends, and even couples who would want to spend time together. We even saw a couple kissing torridly in one of the benches (lol).


To get to the Fisherman's Wharf by boat, simply go the waterfront from Tamsui Old District. There are ferries that operate going to Bali Left Bank, Fisherman's Wharf, and Dadaocheng Ferry Pier. Just simply swipe your EasyCard for easy access to the boat or buy a ticket at the ticket counter.
To get to the Fisherman's Wharf by bus, take Bus 836 or 857 towards Fisherman's Wharf. Simply swipe your EasyCard when you enter the bus. ORDER AN EASY CARD ONLINE
3. Lover's Bridge

The Lover's Bridge has been finished in 2003 and is best captured at night as it illuminates in many different colors giving it a dramatic feel while crossing the bridge. It has been a popular location for Taiwanese dramas.
We took a few photos in here from daylight until evening as we wanna see how it changes from a plain white bridge to a colorful bridge when the night is out. There will also be lots of people here so taking a good photo will be a challenge.

I think we're the only ones who used a tripod in the area (except for those pro photographers) because we see a lot of people with selfie sticks.
4. World Chocolate Wonderland

Probably a must-visit for extreme chocolate lovers. According to reviews, it is an exhibit of wonderful types of chocolates. Entrance fee at World Chocolate Wonderland is $280 NTD per person.
Inside, there is a massive 2000kg car made entirely of chocolate on display as the centerpiece. Throughout the other exhibition are smaller displays made of chocolates, and then there are additional interactive components where you can swap the gold coins given to a shot of spicy chocolate, a postcard, and tasting of chocolate fondue. What to See in Tamsui
5. Lover's Tower

Lover's Tower gives you the best exhilarating 360-degree views of Tamsui waterfront. Mind you that this is a revolving tower, 100m high from the ground. This is also where the Tamsui In Love sign is located.
6. Fort San Domingo

Known for its rich historical background, this is Tamsui's most prominent monument to foreign involvement in Taiwan. The building was first built in the year 1628 by the Spanish when they occupied the north of Taiwan. Over the past years, Fort San Domingo was owned by different nationals including Dutch, British, and Taiwanese. Entrance fee $60 NTD.
[hoops name="Ad_textLinks2″]
7. Love Lane Tamsui

Love Lane Tamsui is a street full of artistic murals. A good spot for taking pictures. Not many people know this because it is not well advertised on the internet – we only saw this on Google Maps and from walking around. What to See in Tamsui
8. Tamsui Qingshui Temple and Tamsui Longshan Temple

If you are a temple hopper, Tamsui Qingshui Temple is also a good spot to see so definitely add this to your list. We only took pictures of the temple as there were not many people in the area and the weather was really hot. What to See in Tamsui
We never get to see the Tamsui Longshan Temple but it is just around the area.
9. Tamsui Golden Anchor

The waterfront of Tamsui located just behind the Tamsui MRT Station. If you want to spend some quiet time or stroll around the area while waiting for a marvelous sunset, then this is the place to spend those minutes.
[hoops name="InArticle"]
Where to Stay in Tamsui District
1. NY Hotel (Highly recommended)

Built in 2016, NY hotel is a distinct addition to Taipei and a smart choice for travelers. From here, guests can make the most of all that the lively city has to offer. At NY hotel, the excellent service and superior facilities make for an unforgettable stay. While lodging at this wonderful property, guests can enjoy free Wi-Fi in all rooms, convenience store, daily housekeeping, laundromat, taxi service. What to See in Tamsui
CHECK RATES VIA AGODA | BOOKING
2. Fullon Hotel Tamsui Fishermen's Wharf

Whether you're a tourist or traveling on business, Fullon Hotel Tamsui Fishermen's Wharf is a great choice for accommodation when visiting Taipei. A well-kempt environment and its proximity to Tamsui Fisherman's Wharf, Danshui River Bikeway, Tamkang High School give to this hotel a special charm.
CHECK RATES VIA AGODA | BOOKING
3. Taipei Travelers International Hostel

Situated in Tamsui District, Taipei Travelers International Hostel is the perfect place to experience Taipei and its surroundings. Hotel accommodations have been carefully appointed to the highest degree of comfort and convenience. In some of the rooms, guests can find internet access – wireless (complimentary), air conditioning. Besides, the hotel's host of recreational offerings ensures you have plenty to do during your stay.
CHECK RATES VIA AGODA | BOOKING
4. Long View Hotel

Located in Tamsui, 10 minutes' drive from Tamshui Fisherman's Wharf, Long View Hotel offers guest rooms and an on-site coffee house in New Taipei City. Free WiFi is available throughout the property. The private bathroom comes with bath or shower facilities, free toiletries, and a hairdryer. For guests' convenience, the front desk opens 24 hours. The hotel also offers free use of bicycles.
CHECK RATES VIA AGODA | BOOKING
5. Hotel Regalees

If what you're looking for is a conveniently located hotel in Taipei, look no further than Hotel Regalees. With its convenient location, the hotel offers easy access to the city's must-see destinations. Discover an engaging blend of professional service and a wide array of features at Hotel Regalees.
CHECK RATES VIA AGODA | BOOKING
6. Hotelday Plus Tamsui

Offering quality accommodations in the sightseeing, restaurants district of Taipei, Hotelday Plus Tamsui is a popular pick for both business and leisure travelers. Guests can choose from 106 rooms, all of which exude an atmosphere of total peace and harmony. Whether you're a fitness enthusiast or are just looking for a way to unwind after a hard day, you will be entertained by top-class recreational facilities such as fitness center, children's playground, games room. What to See in Tamsui
CHECK RATES VIA AGODA | BOOKING
7. Park City Hotel

This luxurious property is a great location to enjoy the panoramic view of Mount Guanyin and Danshui River. The Taipei MRT Hongshulin Station is within reach of the hotel, providing easy transportation into the city. The property is within close proximity to a number of scenic sites, great for relaxing the mind.
CHECK RATES VIA AGODA | BOOKING
8. Amain Boutique Motel Danshuei

Elegant and classy are the two main themes this property presents to all their guests. Conveniently sitting close to the Hongshulin MRT station, travelers can easily explore nearby townships and districts.
CHECK RATES VIA AGODA | BOOKING
---
---
How to stay connected while in Taiwan
We availed the 5 Days Unlimited Data SIM Card for Taiwan via the Pinoy Traveler's Unlimited Sim Card. Read our review and why we love this particular product sold in the Philippines. As a digital nomad, being connected all the time is my number one priority. REVIEW and HOW TO AVAIL.
Alternatively, you may opt to choose a WiFi device rental via Klook or KKday.
[hoops name="Ad_textLinks2″]
---
WHAT TO READ NEXT
What to Do in Taipei: Taipei City Sightseeing Bus Tour via KKday
Taiwan Travel Guide: Taiwan Itinerary 6D5N + Expenses
TAIWAN ITINERARY 4D4N (Taipei, Taichung, & Kaohsiung) | DIY Taiwan Travel Guide 2018 + Travel Tips
Solo Travel Taiwan | 7 Day Itinerary For Taiwan – Kaohsiung to Yehliu
What to See in Tamsui
[hoops name="InArticle"]