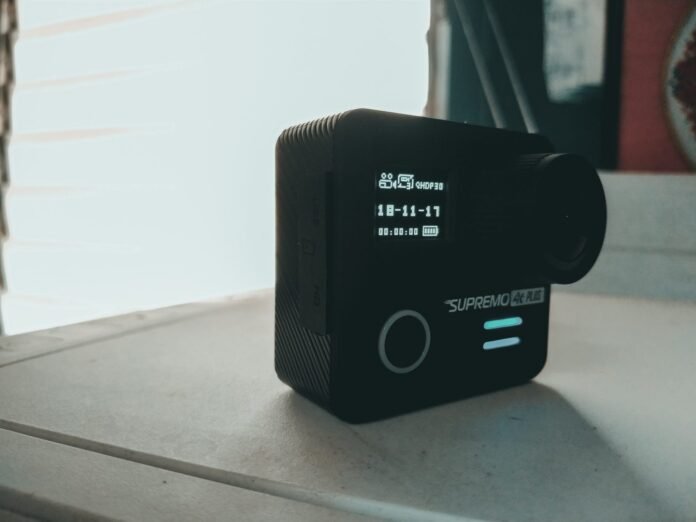 Supremo 4k Plus Action Camera
Why it's a Great and Cheap Alternative Action Camera!
Are you adventurous or you just like taking pictures? Supremo 4k Plus Action Camera is just for you as it can cover all aspect of your life experiences from exploring a new trail, paddling down some rapids, or racing down a steep single track, to life events like weddings, engagements and the likes. Therefore, it is highly important to purchase a good camera in order to capture quality outputs.


The Supremo 4k Plus Action Camera has a unique design with 2.0″ FHD LCD screen unlike the other cameras out there and their differences go as:
It is the upgrade version of Supremo 4k with WiFi action Camera.
It is matte black with three functional buttons – Power, Shoot and WiFi buttons.
It looks like a rounded-off square from the front and narrower than their previous model.
It has 30M waterproof with a waterproof case, 2.0″ FHD LCD Screen, and 7g true glass lens.
It also has 1000Ah Lithium Battery and can save videos and photos up to 64GB Micro-SD card.
The SD card slot card and charging port is covered with a rubberized cover.
It can take quality photos up to 20MP and 4K videos.
General Specifications
Display– 2.0″FHD LCD Screen
Resolution Photo–  20M/16M/14M/12M/10M/8M/5M/3M/VGA
Resolution–  Video 4K 24fps, 2K 30fps, 1080p 60/30fps 720 120/60/30fps WVGA
Waterproof – 30M waterproof with a waterproof case
Power Supply– External 3.7V 1000Ah Lithium Battery
Interface: Micro-HDMI, Micro -USB, Micro SD card slot
Microphone– Internal Microphone support
Storage Type: Up to 64GB Micro-SD card
Special feature– Slow motion, Time-Lapse recording, WIFI, WDR, Driving Mode and Gyro Stabilization.
*ORDER SUPREMO 4K PLUS via LAZADA
What's in the pack?
The pack contains Supremo 4K Plus Camera, Supremo Wrist Watch, Two (2) Rechargeable Batteries, Quick Release Buckle, Waterproof Case, Frame, 3 Hook Buckle, 3-Way Pivot Arm, Thumb Screws, 360 Rotating Swivel Arm, Lock Belt, Curved Mount, Flat Mount, Clip Mount, Safety Tether, Handle Bar Mount, Straps, Wall Charger and USB Cable, 3M adhesives, and Replacement Backorder.
The box does not come with a memory card. However, to enjoy seamless 4K and HD video recording,  Supremo recommends a Class 10 Micro SD card that has at least 48mb/s speed. The memory card can be increased up to 64GB.
Here's an unboxing video of Supremo 4K Plus by boltair3.
Why is it a good choice?
The Supremo 4K Plus gives quality videos and pictures even in low light environments. This is complemented by 20MP Sony IMX sensor which is one of the best and most known in the market.

Pictures taken come with excellent contrast.
Colors come beautiful and natural.
Video quality is pretty good.
Unlike some other cameras, the color profile does not display much contrast.
The settings of the camera can manually be adjusted to take a perfect shot.
Waterproof: The camera can be used to capture photos and videos underwater. For best result, Aqua Mode feature has to be turned on.
If used moderately, the 2 lithium batteries could last for 7-8 hours approximately.
The Supremo 4k Plus Action Camera is a great deal, most especially for people who engage in lots of outdoor activities like travel, beach, and adventure. Its performance and construction may not be as standard as other established action camera brands but given that it comes with handy accessories like wrist remote shutter and waterproof housing and also delivers a captivating outdoor photo all at a fair cost makes it quite a better deal.
Supremo 4K Plus Review by John Aguilon

For photos captured using Supremo 4K Plus, please refer to this Facebook post (edited with Lightroom).
You can buy Supremo 4k Plus thru their website Supremo World, on leading online shops nationwide like Lazada and Shopee, and Kimstore as well.
*ORDER SUPREMO 4K PLUS via LAZADA
WHAT TO READ NEXT
DIY Dome using *Candy Dome* [Balloon Dome] for less than 150 Pesos for your GoPro, SJCam, Supremo, or Yi Cam!
Kamayan sa Palaisdaan Hotel and Resort in Tayabas, Quezon
8 Packing Tips for First-time Travelers
Motorbike Ride Guide: From the Cold Winds of Tagaytay to the Blue Beaches of Batangas