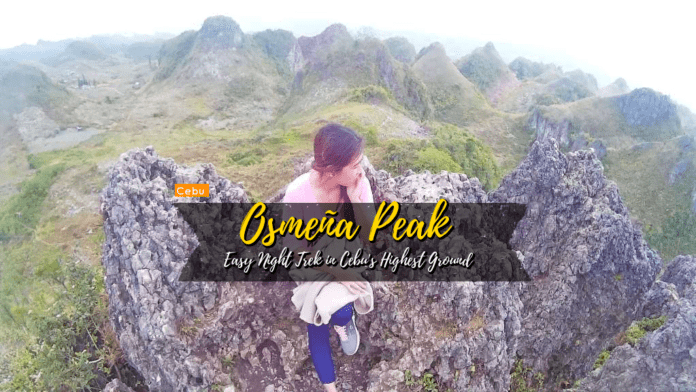 One of the most sought after scenic views in Cebu is when you are at Osmena Peak, 1000+ masl. It is located in Dalaguete, Cebu nearly 2 hours away from the main city.
Osmena Peak comprises of hills comparable to Chocolate Hills in Bohol, a nearby island in The Philippines. Comparable, due to its structure but not very similar to that of Chocolate Hills. It's more likely the gothic version or when you look at it, the dangerous one. Worry not, it's perfectly safe and easy to reach the highest peak in Cebu!
How we ended trekking at night?
It was already around 3:00 pm when we moved out from Moalboal. Knowing the distance of Dalaguete from Moalboal, it's gonna be a very long drive.
We took a bus to Bato Bus Terminal and from there, rode another bus to bound to Cebu and told the driver to drop us off at Dalaguete. It was nearly 6pm when we got off and we still have to buy something to eat when we get there.
Arriving at the junction, we bought food and water. Rode a Habal-habal up to the jump-off point that costs 100 pesos each. Habal-habal drive took at least 20-30mins and it was already fast. The road isn't well lit so if you are not familiar with the place, better not take risks on driving faster especially when it's already dark.
The sun has already set when we arrived at the jump-off point. Hence, darkness already took over the place. The only lighted parts in this area are the stores, some parts of the road, and the registration area. On the registration area, we have to pay 30 pesos each and put our names in the log book.
Moonlight Trekking up to the Campsite
Good thing I brought a flashlight with me. My girlfriend, Jane, has poor vision especially on dark areas, whilst I can manage better since I have a clearer vision. It was dark and we are unfamiliar with the place. If it were only my girlfriend trekking up, she would have freaked out already. I had a little hard time because of my slippers, the strap kept on slipping through so I had to adjust it every now and then. I did not bring any shoes in Cebu.
The path to Osmena Peak was trailed with white limestones making it easy finding the way in the dark and even with a little light as the light reflected with the stones. Jane is a bit scared because she thinks that the other side of the path is a cliff (which really is) but just a shallow one. Once we saw lights from the campsite, we felt relieved. At least, we're near to the target destination, the campsite.
Setting up Camp
There also are campers in the area. They looked like a family or neighborhood doing overnight camping as they are talking with each other in Bisaya language. They also were setting up a bonfire, merely a bad idea due to strong winds. This could cause a wildfire if not managed correctly and can even burn up their tents.
While it was happening, we were setting up our tent to camp out. Being on the top of the mountain, it was cold. The cold breeze whirling around our bodies gave a chill feel. After setting up our tent, we took out our food and ate them with delight. We were starving, it's been about 4-5 hours since we had a meal.
Camping Grounds in the Middle of the Night
The wind coming from every direction were so strong. My neighbor campers started to look for another place to set up their tent. Whilst us kept still on the ground. We slept for a few hours after we ate, but due to the cold breeze and strong winds, it's hard to keep up with sleeping. Every now and then, I get to wake up to adjust our bags on every corner of the tent because we have no pegs. Luckily, our bags were heavy enough to take care of the tent's required strength.
As the night goes by, our tent is being hampered heavily by the winds. It's kind of alarming but thankfully, we managed to survive the night.
Rise and Shine
It's nearly dawn when I woke up and the sun wasn't all up.
She was still sleeping so I went out alone to check what's outside. I was surprised by the view, white and foggy, cold and windy. There were only two tents that remained in the campsite. Ours and the other one beside us. The other campers were gone. They have changed location, by then, at the foot of the summit.
She woke up with a smile.
That night was full of worries and I made her sure that the tent and our camping experience will be okay. We ate our breakfast and prepared our stuff. I took some photos while she prepares our things. We dismantled the tent and left our baggage at the foot of the summit. We started to trek up the highest peak (summit) of Osmena Peak and look at the scenic views of lush hills and vast oceans.
The sun was up but the clouds were still forming. We didn't get the chance to have a clearer view of the blue sky. She wanted to wait until the clouds go away but it would take more hours and we still have to go some other place.
We waited for a little while. Took photos of the awesome summit. Took lovely photos of her. Took bright pictures of us. It was fun and I loved that moment!
We weren't able to see a proper clearing but the experience, the scenic views from our naked eyes, were nonetheless a golden memory. Preserved and always remembered.
Tent Pitching Mechanics
Before I forget, a person will come at you in the morning and will be asking for a payment of 50 pesos (per tent). It was already expected since it was on the notice on the wall at the registration office and the officer told us about it.
After taking lovely photos, we proceeded to the next destination, Obong Spring, still situated in Dalaguete, Cebu, 10 mins away from the Dalaguete junction.
---
Just a little information..
It was our first time to trek by the night. We arrived roughly 7pm at the jump-off point, paid 30 pesos for the registration, and started trekking up under the shy light of the moon to Osmena Peak. There also are other campers but they eventually left the campsite due to heavy and strong winds. Luckily, our tent didn't go down! We rose up in the morning and started taking photos of such a wonderful creation!
ITINERARY & EXPENSES:
How to get to Osmena Peak?
From Cebu~
Take a bus at South Cebu Bus Terminal bound to Oslob/Bato.
Tell the driver to drop you off at Dalaguete. The fare is about 70 pesos.
Once in Dalaguete junction, hire a habal2x to the jump-off point. This costs 100 pesos each.
You have the option to drop by the Mantalogon Market or head straight to the jump-off point.
On the jump-off point is a registration office, pay 30 pesos as an entrance fee.
Tent Fee will be collected in the morning for overnight campers. 50 pesos per tent.
Going back to Cebu, take the same route. Habal2x from the jump-off point still costs 100 pesos each.
Where to stay in Cebu?
Aside from tents, you may also try these lovely hotel/hostel options.
[hoops name="cebu"]
---