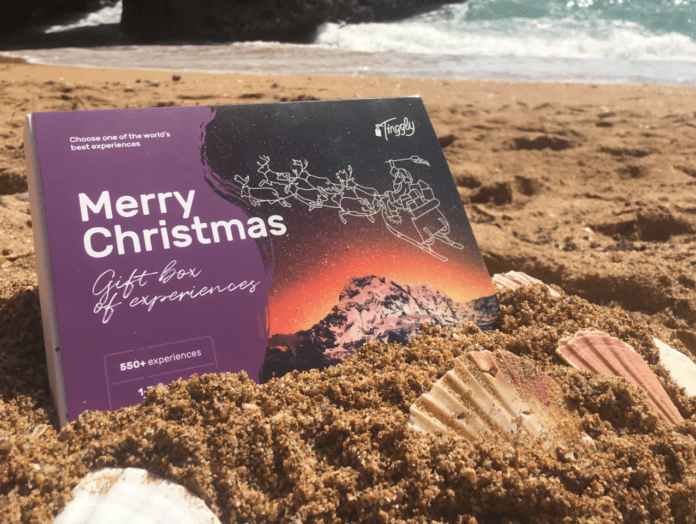 Choosing gifts for travelers used to be a problem.
Most of us get a warm glowing feeling when it comes to thoughts of Christmas. But, there's one Christmas tradition that can leave many of us out in the cold, and that's the year-after-year frustrating process of choosing the right gifts. Choosing gifts for travel lovers can prove especially challenging, flights, cruises, or train tickets can be beyond most people's budget. Items like travel clothing, luggage options, and other accessories tend to be highly personal choices with considerations like suitability to planned trips, weight considerations, and technological preferences to recognize. Check online here more resources.
That's why we've tried to make it easy for you and come up with 5 great solutions suitable for every nomadic spirit.
1. Tinggly Experience Gift Box

Tinggly is changing the way people are giving gifts. It seems that accumulating material possessions is no longer our priority, and that's where Tinggly comes in. Tinggly offers' a collection of over 2,000 hand-picked life-enhancing experiences in over 100 locations around the world – we think they make the perfect Christmas experiences gifts. From bungee jumping in New Zealand, shark cage diving in Hawaii, or luxurious spa treatments in Indonesia, Tinggly's onus is built on the concept 'give stories not stuff'. In effect, the Tinggly gift is an experience gift voucher letting the recipient choose the experience that suits their travel plans, lifestyle, and preference for adventures.
And the really great part is that recipients have five full years to make their choice.
2. Travel Pillow

Did you ever feel envious of that person who sleeps the whole way through a long-haul flight? Looking like they're safely wrapped up at home in the comfort of their own bed. Don't worry, every traveler feels like that. When you're trying to think of a really great gift for the traveler in your life, you won't go far wrong by choosing a modern travel pillow. Long gone are the days of the simple 'U'-shaped pillow – although there are still some great models of this type on the market – designs, materials, and the technology behind travel pillows has moved with the times.
From pillows which are placed on an aircraft seat's cabin-tray allowing the owner to really put their head down, to simple wrappable scarves which come complete with pliable neck supports, there's a huge range of choice out there. When you gift a travel pillow, ever time the gift recipient arrives at a destination relaxed and refreshed they'll have you to thank for that.
3. Travel Thermos

No, wait. Seriously, a travel thermos (or mug) is a great gift for world nomads. When you travel you probably need more liquids than at any other time, keeping yourself hydrated on long-haul flights, banishing thirst under a burning equatorial sun, or just making sure that you have a hit of coffee to get you through an early morning dash to the airport or a long tiring bus ride. But not just any old thermos will work for serious travelers. It's going to have to be tough, durable, light, serve its purpose of keeping liquids hot or cold for prolonged periods of time, and importantly, it won't leak.
Thermos flasks are no longer the boring functional drink holders they once were, gone are the familiar Tartan patterns and in their place steps stainless steel, toughened recycled plastics, and even wood. The range of choices has grown, from simple non-spill thermos cup and mugs to large-volume carriers designed to make sure a thirsty traveler is always happy and hydrated.
4. Face Moisturizer

OK, let's keep this tip brief. Face moisturizer. Even if a frequent traveler doesn't realize that they need moisturizer, they do. It's essential to keep your skin moisturized when traveling – altitude and cabin pressure can strip your skin of valuable nutrients, sea air can do similar damage, and the sun will do more damage than both of the others combined. That's why when choosing a face moisturizer for a traveler it's recommended that you choose one with a built-in SPF (Sunscreen to you and me).
Most people don't like to apply sunscreen directly to their faces so this may be the perfect option. However, make sure that it's the right size to make it safely through airport security.
5. Universal USB Travel Power Adaptor

The modern nightmare travel scenario. You've just arrived at your destination in some foreign country and you need to make an important phone call or check an email confirming an accommodation booking. But – here it comes – you're batteries are dead and your charger doesn't fit the local power sockets. That's why having a versatile travel power adaptor is essential for anyone constantly migrating between regions, zones, or even continents.
The really great power adaptors are interchangeable across different power supply variations, and can even support simultaneously charging multiple devices at the same time. Just be sure to check whether the adaptor you choose is only suitable for 110v devices and doesn't support appliances requiring higher-power input.
Experience gifts or material possessions?
Whether you choose to splurge on a material gift or an experience gift there's a lot of choices. You don't want to waste your money but you also want to give a worthwhile gift your recipient will value physically or due to the benefit of great memories and stories, so, make sure you choose wisely. Plus, giving the perfect gift will not only make the recipient happy, giving a great gift is scientifically proven to make the giver happier too.
WHAT TO READ NEXT