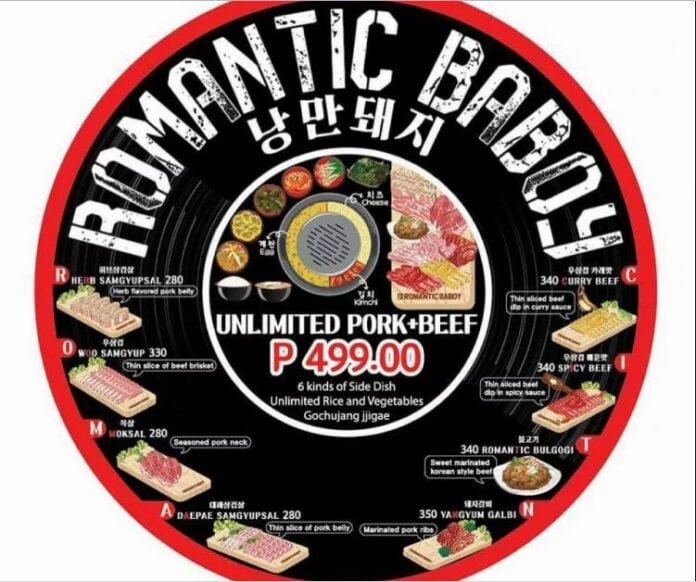 We had this lovely chance of getting served by an unlimited Korean barbeque restaurant, Romantic Baboy, located in Tomas Morato, Quezon City thru the help of our friend Milet. This restaurant has been making rounds online because of their notable cheesy samgyupsal which adds a brilliant flavor to your grilled meat.
Romantic Baboy Experience (and Review)
Please do note that when you get to this place, bring a lot of patience. Why should you? There is no table reservation on this restaurant so whoever gets here first, gets served. And when the tables are all occupied, you'll get a number that permits you to occupy the next table available.
Here's a little catch: If your number has been called and you have not attended to their call, your number will be skipped over and you will need to acquire a new number again, getting you to the last slot and you will have to go waiting again. You can't argue, it's their policy. It's annoying but you just have to get over with it. Either go and eat somewhere else or wait until your number gets called.

Their reservation system is what I think will always have the lowest rating but their service and food are always rated the best. Maybe that's why people are hyped to go this restaurant, you're gonna be really hungry first before getting to eat and experience the real deal.
What I suggest: They take a representative's (customer) phone number and ring them when a table is available.
Unlimited Korean Grill and Barbeque Experience for ₱499
We seriously hated the waiting time but what we loved about Romantic Baboy is that they have lots of choices (eight to be exact) for samgyupsal or different meat slices and 6 unlimited side dishes. Here they are:

8 Types of Meat (order by letter)
1. HeRb Samgyupsal
2. WOo Samgyup
3. Moksal
4. DAepae Samgyupsal
5. YaNgyumGalbi
6. RomanTic Bulgogi
7. SpIcy Beef
8. Curry Beef
6 Types of Unlimited Side Dish
1. Japchae
2. Coleslaw
3. Kimchi
4. Chicken
5. Stir Fried Fish Cakes
6. Scallion Salad
and the standard in every Unlimited Korean restaurant; Lettuce leaves, Rice, and gochujang jjigae (Soup).
On the grill area has 3 slots especially for the cheese, the egg, and the kimchi.
Notice the fonts in red? That's what makes it ROMANTIC.

I think we tried almost all types of beef. My personal favorite is the Romantic Bulgogi and Spicy Beef. These meats, when added with cheese, makes it really flavorful. This was the reason why people are okay to wait for more than 2 hours just to get a table.
Daepae Samgyupsal is extra special as it will look like bacon when cooked because it's a thinly sliced meat. If you are extra hungry, order this right away as it will only take a few minutes to cook. Do not forget to dip it in the cheese, and the sauces.


Eating Tip: I've always been doing this and I know you are too. Lay the lettuce on your plate. Add the samgyupsal, salt, Korean sauce, Kimchi, and any side dishes you want on the lettuce, this time with cheese. Fold and wrap the meat and side dishes with the lettuce and put it in your mouth, whole! You're gonna taste everything in that one big wrap of a treat.
Order and Service Experience

Romantic Baboy is always going above and beyond the service standards. Sometimes, you don't really need to ask for an additional order of meat as they will be the one to approach you of what you would want to order if they see your table almost empty and finished.
The place also looks clean and neat. Definitely another plus to their service. They always keep the area clean even when people are coming in and going out every single time.
As for the staff, as far as I have experienced, they are always willing to help and assist you and won't look at you like you have ordered too much. Their food concept is unlimited and that's good that they are not looking like you're being judged as a glutton. They also are attentive and ready to replace the grill at any time.

What to Expect:
1. If you are not coming early, do expect for a long waiting list. Bring patience along to keep you waiting for 2 to 3 hours.
2. Prepare to be smelling like smoke or grill after eating. There's not enough ventilation to keep yourself from the smell of smoke lingering to your clothes and skin.
3. They don't have a cool waiting area, so if you're going to wait for hours in the hot weather, bring a fan or an extra shirt (lol).
4. No service charge! So what you see (₱499) is what you're gonna pay. No more, no less.
5. Prepare your taste buds. Their meats are really tasty plus with the cheese.
6. You can stay for as long as you want. I'm just not sure if somebody stayed from lunch until dinner.

Romantic Baboy Quezon City Address:
CKB Centre, Tomas Morato Avenue Corner Scout Rallos Street, Laging Handa, Quezon City
So if you are that kind of person who loves to try out new tastes and a different kind of experience (waiting 1-3 hours for food) then this place totally deserves you! With their cheesy samgyupsal, different types of meat, unlimited servings and attentive staff, I'm sure this is going to be your new favorite place to eat UNLIMITED SAMGYUPSAL!

---