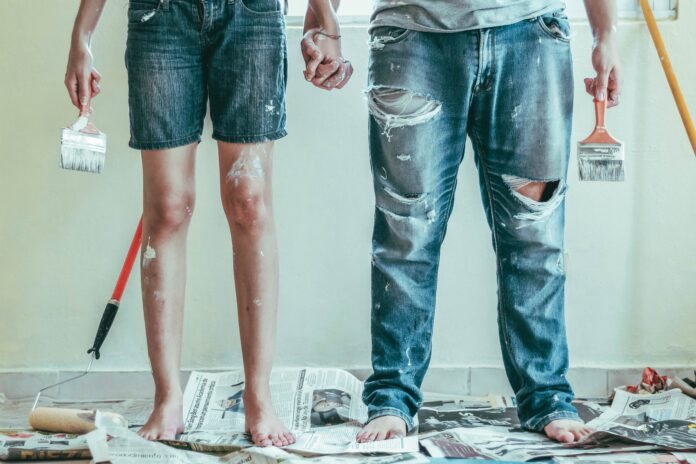 The quarantine period has bestowed the gift of time to the whole world in abundance. But, with heaps of time on our side, we're bound to run out of things to work on and that's when the boredom sets in.
People are renovating themselves completely in this time so why not do the same for your humble abode next? To break out of the quarantine boredom, give your living space a revamp to enliven things up in this gloomy environment.
It's time to break open a bundle of remodeling ideas for your homes that you've been procrastinating due to your busy and fast-paced life. So, let us help you get started with your new home projects with these quirky ideas. Read on to learn more.

Mirror, Mirror On The Wall
Reflective surfaces are always a safe bet as you can place them on any wall, and it'll blend right in with your décor. For an instant modification, you can either buy a beautiful mirror or you can take the affordable road, by refurbishing an old mirror with a dainty frame.
You can go the extra mile and purchase graphic mirror art pieces which have increasingly become widespread as décor ideas. Lastly, you can go all out and buy a getting table that has a mirror and cabinet space in it.
Let's Get Painting
Painting is the quickest fix to revamp your house and the best part is all you need is some paint and a brush. So, target a mundane wall in your living room or your bedroom door to brighten up the look of your house and get started on it.
Make sure to use contrasting tints that stand out when painting. So, if your living room is peach-colored then paint that central wall with a pastel mint color for a perfect mix and match. You can also check out Full Renovations Toronto to ask for ideas.
Time For Some Wooden Decor
Wooden décor items have the power to uplift the whole aura of a room as well as give it a vintage touch. So, order yourself a dainty yet minimalistic wooden bookshelf that is easily accessible as well as affordable.
Other than books, you can place some small potted plants and scented candles on the bookshelf to make it more aesthetically pleasing. If you want to go cheap, make a simple one yourself with spare wood.
You can also introduce a wall of wooden frames with photos of cherished memories to give your dull wall a touch-up. If you have some experimental energy in you, paint the wooden frames a shade darker than your background wall and you're done!
Change Your Window Dressings
You can change the look of a whole room by switching just the curtains to a more graphic and fun color or go for an altogether different pattern. You can mix it up with some different silhouettes or airy fabrics like patterned chiffon to make things lively.
But, if you're looking for more of a change, you can ditch your curtains for some classic window blinds. This is an interior decorating trick that can make your home stand out, giving it an old-world charm and a vintage vibe.
Introduce Some Lights
Adding some artificial light to your home can literally brighten up the entire vibe of it. You'll find a plethora of choices you can choose from. You can even pick up some pictorial light lamps which can be placed on the floor next to a table or a door.
Moreover, there are also a number of hanging light installations, like a big chandelier, if you want to go fancy. For a more subtle change, you can go for aesthetic hanging bulbs or lamps.

The Bottom Line
No matter how accustomed we get with our surroundings, it's always nice to mix it up once in a while. Doing so fill us with renewed energy and inspiration. And there is no better time to do this then when we are stuck in our homes.
Plus with all this time, remodeling your home is something that all your family members can engage in to make this gloomy time a tad bit entertaining.