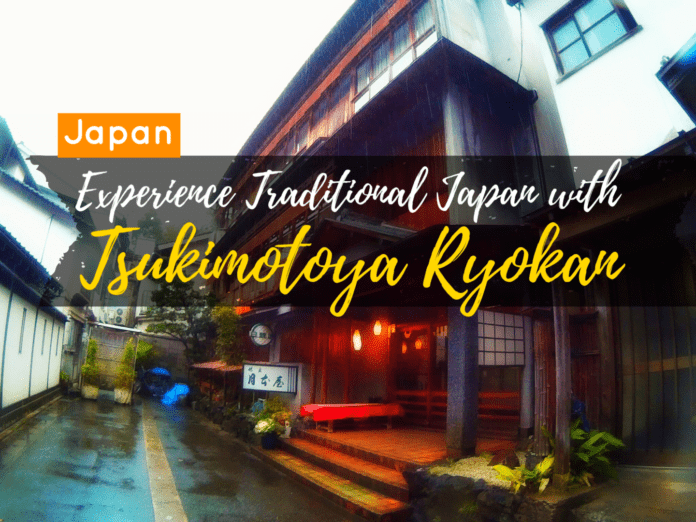 Tsukimotoya Ryokan is an inn with a more traditional feel. Ryokan is a type of traditional Japanese inn that originated in the Edo period. We came here after seeing Himeji Castle.
We had a little hard time locating the inn because although Kinosaki is a small town, it comprises of many streets and houses, plus the challenge was doubled because we arrived at night. Tsukimotoya Ryokan, if my memory serves me right, is located after 5 or 6 more streets to the left after the bridge, crossing from Family Mart plus it was already evening and there weren't many people roaming around the town and along the way.
So finally when we have arrived at the inn, it's like what we are seeing in movies! Oh, a dream come true! Polished wooden floors, yukata sandals, the scent of wood around the place, a very peaceful place to sleep and relax indeed!
Entering the room requires you to slide the wooden door to the right. Inside is a wardrobe, a television, a table, a lamp, and all the other stuff for sleeping. The other part of the room is for the sink and sofa. The rooms will be divided into two, for men and for women, so you will be sleeping separately (not unless you are with your wife/girlfriend, that is a different case). Our rooms were located on the 2nd floor so we share a common bathroom. For the rooms with in-room bathroom, I forgot the details. Sorry. :3
Okasan (we just called her Okasan, because she is an old lady and we could not decipher her name by how she speaks), helped us on preparing our things. She also toured us a little on the facility. Prepared our tea drink for the night, explained our access passes and how to go around town's famous hot spring spots and lastly, demonstrated us how to put on Yukata, the proper way!
She was very bubbly and full of smiles. Though she speaks very little English, we were able to understand what she tried to say by using hand and face gestures on each other. It was a little confusing but was really fun.
Here's what to expect on the Onsen houses and your access pass
-You are given a free unlimited access pass to 5 onsen houses. This has a barcode for verification. Do not lose it or you'll pay for it. It costs too much.
-The onsens' schedule of service varies by day and some have their own time of operation.
-The evening schedule of service for some onsens' is from 7pm – 11pm.
-The morning schedule of service for some onsens' are from 6am – 10am.
-Men and women will be separated.
-Thou shall not wear anything (or just bring the provided towels to cover your private part). You are not allowed to swim with even just your underwear on.
-Soap and shampoos are provided in the onsen. You are going to bath together with other people, naked.
-Even if you do not want it, you have no choice but to see the others especially when you are drying up. You only are in a single room with no curtains and part divisions.
-While the onsen is operational, you are free to use all equipment, i.e., hair dryer.
To make sure about the opening and closing schedules, please see this website.
http://www.kinosaki-spa.gr.jp/global/hotspring/hotspring.html
For the whole night of stay in Tsukimotoya Ryokan, we paid 20,000++ Yen in total.
---
Book Tsukimotoya below to avail of big discounts!
---
[hoops name="tsukimotoya"]
---
[hoops name="tsuki"]
---