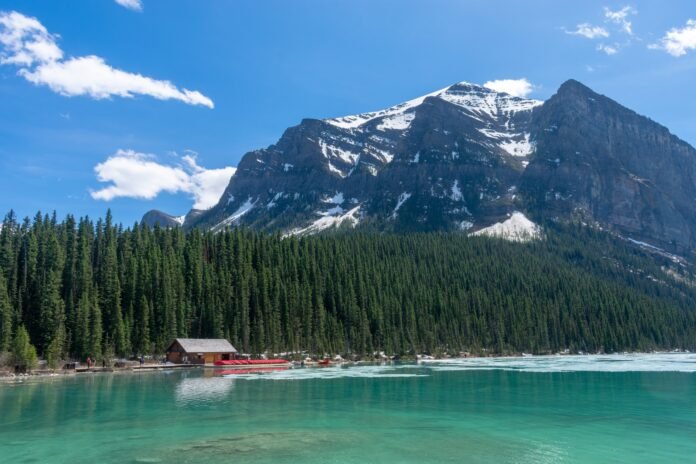 Like any other country in the world, Canada has been blessed with its own beautiful and mysterious creations that are unique in their own way.
Canada is located in North America and has ten provinces and three territories extending to 9.98 million square kilometers (3.85 million square miles), making it the world's largest country by total area.
Canada also has a range of climate all around the year making it a perfect place to take a vacation and even a date in the lively Chinatowns in Vancouver, Toronto, And Victoria won't get you dumped. Note that visitors from other countries aren't allowed entry to Canada without a valid and proper visa.
Now, here are the ten best places to visit in Canada when you and your family are going on a grand vacation.
1: Tsusiat Falls, British Columbia
This is one of the destinations that you can't afford to miss when you visit Canada. It is one of the main highlights on the trail with a breathtaking and mind-blowing appearance Including beautiful, scenic, and endless beaches, Tsusiat Falls being visible all along with the beach Swimming under the falls is amazing and finally, a large sea that can have room for a lot of tents.
2: Jasper National Park
This area a hotspot all year round with a lot of breathtaking and adventurous activities to explore. The list of stuff to do in this area is endless but you can't afford to miss the epic backcountry hikes in the summer, plus visits to waterfalls and glacial lakes in the winters. Most of all don't forget to do snowshoeing and winter camping in the Wapiti which is a great place for family camping.
3: Fort St. James National Historic Site
Yeah I know it looks funny but trusts me once you take a visit to this cultural area you will agree with me that it is a place worth taking a look at. Just imagine traveling back in time to 1896 when wealth was measured in fur pelts and salmon, the natural bounty bartered by the Carrier First Nations. Unlike other places, you visit everything done here is pretty old school. Think of world-class chicken racing," escape the fort challenge" and best of all you could get a chance to spend a night in the historic home of the fort's former chief factor, just as it was in 1896, down to the bedding, wood stove and chamber pot. Enjoy after-hours free rein of the fort.
4: Quebec City, Quebec
Québec City is located in the Saint Lawrence River in Canada mostly French-speaking Québec province. This city dates back to 1608, it has a fortified colonial core, Vieux-Québec, and Place Royale, with stone buildings and narrow streets. This area is the site of the towering Château Frontenac Hotel and imposing Citadelle of Québec. With a variety of climate, it proves to be a place worth visiting and offers more than one can imagine.
5: Maligne Lake, Alberta
It goes without saying that this is a potential destination worth having on your list. This place will blow your mind with boat cruises through Samson narrows to Spirit Islands(A tiny Island With Trees) and you will also be able to see wildlife. It will also be a big loss if you don't get to go in guided fishing tours in the area.
6: Bruce Peninsula, Ontario
Bruce Penisula, Ontario offers a lot of touring options to select from including national parks, beaches, the Grotto, lighthouses, Bruce trail, and hiking among others. My personal best is the stunning combination of rugged rocks, ancient trees and calm waters of Lake Huron. You would also be impressed by the rare wildflowers and orchids.
7: Churchill, Manitoba
This is one of my personal best areas that I wish to visit. If you are an animal lover then you must be prepared to get amazed by the beautiful polar bears in the fall. The fun fact about this is that there are more polar bears than residents in this area. You will also get to watch playful and curious beluga whales traversing in from Hudson Bay. This is a place you must go to your next visit to Canada.
8: The Bay of Fundy
The main aesthetic beauty of this place is from the geography point of view.  The Bay Of Fundy is one of the 7 wonders of North America with the rarest type of whales in the world, semi-precious rocks, and dinosaur fossils. This made a panel of experts to chose Fundy Bay as one of the natural wonders in the World back in 2014.
9: On the trail of the Titanic in Nova Scotia
If you love world history then you wouldn't miss a visit to Halifax. There are a lot of places and buildings located in Halifax including funeral homes, cemeteries, and churches that are associated with the Titanic casualties. It is also the place with the best wooden Titanic artifacts in the World. If you have been seeking answers about the unsinkable Titanic, then this is your chance.
10: Western Brook Pond
This is a place for the Geography lovers for it explores the concept of lake formation and it can arguably be called a "fjord". The place is a dramatic setting for boat racing. The boat tour can be reached via Route 430, 27 kilometers north of Rocky Harbour. From the parking lot, there is a 45-60 minute walk (three kilometers or roughly two miles) to the dock. Apart from the boat rides one can find a sheltered waiting area, indoor washroom facilities, canteen services, gift shop, and several beautiful picnic areas.