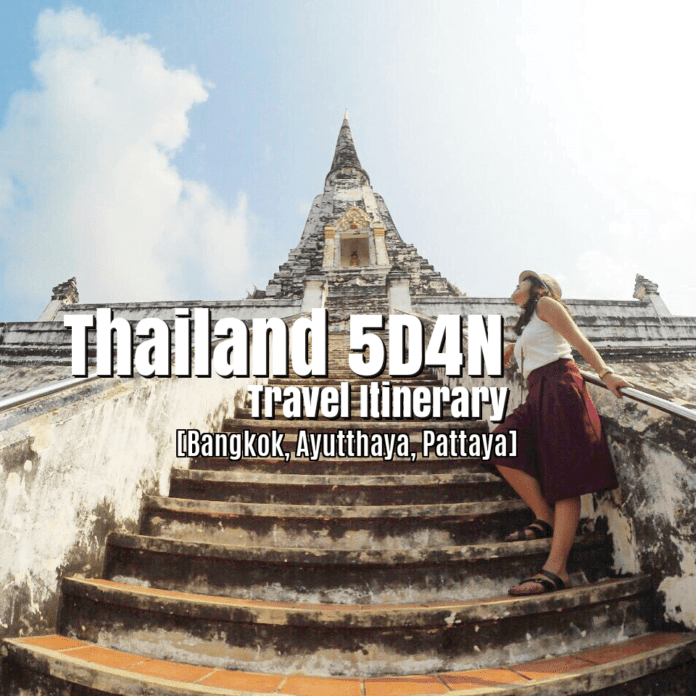 Thailand 5D4N Travel Guide
Bangkok, Ayutthaya, Pattaya
FOR ONLY 9K PHP

This itinerary includes:
-FOOD
-TRANSPORTATION
-HOTELS
-ENTRANCE FEES
Exchange Rate on travel dates: 1 Php = 0.72 baht
I would suggest having your money exchanged somewhere else cheaper. Sobrang mahal sa airport!! The best magpapalit sa Khao San Road. Kinabog pa ang forex. Mas mababa pa palitan nila.
BEWARE OF THE TUKTUK SCAMMERS! Never agree to pay 100 baht and above kung di kayo lalampas ng 4-5km. Pwede din kayo magUber, mas mura 🙂 Just pin the exact location. As in exact kung ayaw niyong mag-ala alien hahaha!
Day 1: Arrival in Thailand

• Suvarnabhumi Airport
• Lunch at some Thai resto: 230 baht Thailand 5D4N 
• Van from Airport to Khao San Road: 100 baht
• Iced coffee along Khao San Road: 50 baht
• Check-in at DnD Hotel (Khao San Road): 3,900 baht (1,300 baht ea)
with swimming pool and breakfast buffet at Dang Derm Hotel
[Check Rates / Book this hotel] [Book Here]
• Tuktuk to Wat Pho (100 baht): 34 baht
• Wat Pho entrance fee: 100 baht
• Boat to Wat Arun (back and forth): 14 baht (7 baht each way)
• Wat Arun entrance fee: 50 baht
• Went back to Khao San (100 baht): 34 baht ea
• Shrimp Pad Thai: 60 baht
• Fried Spring Rolls: 30 baht (10 baht ea)
• Ice cream: 10 baht
• Coconut Ice Cream: 40 baht (14 baht ea)
Total: 2,006 baht
---
Day 2: Damnoen Saduak Floating Market

• Breakfast buffet at DangDerm Hotel
• We hired a driver in front of our hotel (900 baht): 300 baht ea (two-way)
• You may opt to DIY all the way:
1. By bus (#78) from the Southern Bus Terminal. The bus leaves at 6AM in the morning so you have to wake up early. The fare costs 70 baht.
2. By mini van from Victory Monument. Fare costs 90 baht
• As soon as you arrive, avoid the scammers from the dock where you will be dropped off by the bus or mini van. Walk outside left then head 1km. The indication for the entrance of the floating market is the arch.
• Boat (300-400 per hr/person)
• Motorboat (500-600 per hr/person)
We were able to haggle a motorboat for only 300 baht each person
• Grilled Banana: 40 baht
• Mango sticky rice: 50 baht (25 ea)
• Went back to the city
• Dropped off at MBK (shopping) Thailand 5D4N 
• Siam Center
• Lunch at Japanese restaurant (Umami Kaizoku – Fallabella): 300 baht
• Siam Discoveries
• Siam Paragon
• Erawan Shrine
• Palladium Night Market
• If you are in Bangkok on a Friday, visit the Chatuchak Market instead
• Shopping for pasalubong
• Street Food (Pork Skewers (25 baht ea), Tamarind drink(20 baht)): 70 baht
• Back to Hotel via Grab (90 baht): 30 baht ea
Total: 1,065 baht
---
Day 3: Ayutthaya Tour

• Breakfast buffet at DangDerm Hotel
• We hired a travel agency recommended by our first tuk-tuk driver from the 1st day. I can't remember the agency but you can ask your hotel for cheap Ayutthaya tours.
• Half day Ayutthaya Tour costs 850 baht with free buffet lunch and it covers the following temples:
• Wat Phu Khao Thong
• Wat Mahathat
• Wat Phra Sri Sanphet
• Wat Ratchaburana
• Went back to Hotel
• Shopping at Khao San Road
• Classic Pad Thai: 30 baht
• Spring Rolls: 30 baht (10 ea)
• Chang Beer: 100 baht (34 ea) Thailand 5D4N 
Total: 924 baht
---
Day 4: Pattaya City Tour

• Check out at DnD Hotel
• Van from BKK to Pattaya: 300 baht
(Travel agency in front of the hotel entrance)
• Check-in at Miracle Suites (1850 baht): 617 baht ea
• with swimming pool and breakfast buffet
• Wat Chai Mongkon
• Istanbul Kebab: 60 baht
• Pattaya Walking Street
• Pattaya Harbour
• Jeep Thai version 
😂 (back and forth): 20 baht (10 baht each way)
• Coral Beach
• We weren't able to visit the Sanctuary of Truth as it was under construction at that time
• Convenience Store food: 100 baht
Total: 1,097 baht
---
Day 5: Nong Nooch Tropical Garden

• Breakfast Buffet at the hotel
• Hired a driver just outside the Hotel 900 baht whole day: 300 baht ea
• Nong Nooch entrance fee with shows: 800 baht (500 baht without shows)
• Wat Khao Chee Chan (free)
• Other attractions to visit:
-Cartoon Network water park
-Wat Phra Khao Yai
-Coral Island
-Ripley's Believe it or not
-Art in Paradise
-Pattaya Floating Market
-Elephant Village
• Back to the Hotel
• Street food along Pattaya Walking Street and Beach road (fried chicken, skewers): 100 baht
• Chang Beer (convenience store): 70 baht
• Pattaya to BKK airport by limousine taxi: 900 baht (300 baht ea) Thailand 5D4N 
Total: 1,570 baht
Overall Thailand expenses: 6,662 baht = 9,193.56 Php [USD 180++]
Overall expenses (Airfare, Travel Tax and Wifi Rental): 16,073.38 Php
Flytpack Rental 5 days 1,100 Php (367 Php ea)
Travel tax: 1,620 Php
Airfare with 15kg baggage BKK to Manila: 4,892.82
---