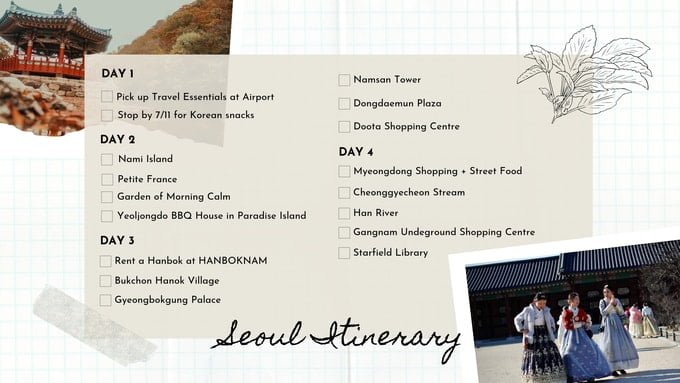 South Korea Solo Travel Budget Guide 2018 for 4D3N
South Korea Travel Budget Guide
Here is Jo Isidro's South Korea Solo Travel Budget Guide. It was her first time to step out from her hometown's boundaries and yet she had already made a good experience our of her being a solo female traveler. Though she didn't get to experience everything because it rained so hard on her visit, she made sure to have a good time while in South Korea.


First out of the country.
ALONE. possible pala, kaya ko pala.
Visa: processed via Rakso Travel ₱1,000 processing fee
Useful Apps:
Klook
Naver Map
Subway Korea
Booking.com
KKday
Airline ticket: Nabili ko sale sa Cebu Pac last Feb 15. ₱3,000 round-trip
Total Expenses/Budget: ₱25000
[TRAVEL HACK: Book via SkyScanner App to check for the cheapest flights! Click here to download!]

Malaking tulong ung mga nakapost na itineraries. Kamsahamnida 🙂
Dahil mejo sira po South Korea Itinerary ko kasi umulan mejo kaunti lang napuntahan ko.
12am dating ko sa sokor so tambay sa airport hanggang umaga South Korea Travel Budget Guide
Day 1:
7:00 am breakfast tas kumuha ng WIFI na na-book ko sa KKday ₱571 for 4 days

mejo matagal waiting time kasi di kami nagkaintindihan nung may ari ng guesthouse kasi akala ko pwede mag early check in ng 10am  so ikot muna sa myeong-dong kahit malakas ulan

2PM check in. Ttowa House 5mins walk sa myeong-dong station. nabook ko sa booking.com ₱4,543 solo room with breakfast na sya for 4 days 3 nights.

shopping/foodtrip myeong-dong

Day 2:
Namsan Cable car (9500 won round trip)

N Seoul Tower Observatory booked via klook (₱303)

Heo Joon Jae's house (Madadaanan pagbaba ng cable car)

Gyeongbokgung Palace (Nag rent ako hanbok for 14,000 won)

Gangnamdol

JYP South Korea Travel Budget Guide

Dongdaemun Design Plaza (ganda dito mga besh night kayo punta )

Day 3:
Nami Island (Sana but naiwan ako ng tour booked with klook.)

Myeongdong Cathedral

Yeouido Hanggang Park (tapos umulan uli ng malakas )

Sinchon Grafitti tunnel

Ehwa Womens university

Day 4
Pack-up things

Namdaemun Market (sokor version of divisoria)

Seoullo 7017 (maganda rin pag gabi) South Korea Travel Budget Guide

MBC tour (kaya pa sana ng oras kaso di na kaya ng katwang lupa ko. napagod na ko direcho airport na ko)

---
Recommended Places to Stay in South Korea for Budget Travelers

1. Beyond Stay –  Jongno-Gu, Seoul [as low as  ₱800 with breakfast]
2. K-pop Guesthouse Seoul Station [as low as ₱800with breakfast]
3. Dasan House [as low as ₱900 with breakfast]
4. Yellow Brick [as low as ₱1000 with breakfast]
5. Songpa Hostel  [as low as ₱1000 with breakfast]
6. Seoul Tower Family Guesthouse [as low as ₱1100 with breakfast]
7. Come On Guesthouse Myeongdong [as low as ₱1200 with breakfast]
8. Itaewon Backpackers [as low as ₱1300 with breakfast]
9. Hongdae Nanu Guesthouse KPOP [as low as ₱1400 with breakfast]
10. Mullae Guesthouse [as low as ₱1500 with breakfast] South Korea Travel Budget Guide
---
Klook and KKday Recommended Tours and Services to Book or Try
Check out other discounted offerings for South Korea by clicking the banners below.


1. Klook: 4G WiFi (KR Airport Pick Up) for South Korea from KT Olleh (₱144)
2. Klook: Nami Island, Petite France, Garden of Morning Calm, Gangchon Rail Bike Day Trip from Seoul (S.A Tour) 
3. Klook: Gangneung Romantic Day Tour from Seoul
4. Klook: Everland
5. Klook: Lotte World 1 Day Pass
6. Klook: N Seoul Tower Ticket Combos in Seoul
7. Klook: Nami Island Round Trip Transfer (from Seoul)
8. KKday: South Korea Unlimited 4G Portable Wi-Fi Rental
9. KKday: South Korea T-money Public Transit Card (Delivery to Philippines)
10. KKday: Daegu, South Korea: Hanbok Rental
11. KKday: Day Tour from Seoul: Nami Island & Garden of Morning Calm
12. KKday: Everland Theme Park Ticket With Shuttle Service – from Seoul
13. KKday: Gyeonggi Day Tour: Korean Folk Village, Gwangmyeong Cave, Everland
---
WHAT TO READ NEXT
Taipei, Taiwan Travel Guide with Extreme Tight Budget: ₱5000 for 4D3N
Taiwan Travel Guide: Taiwan Itinerary 6D5N + Expenses
5D4N Japan Itinerary: Osaka & Kyoto | PHP 21,000 ALL-IN | Budget Travel Guide 
Thailand 3D2N: Travel Guide with only ₱3000+ [USD60+] Budget