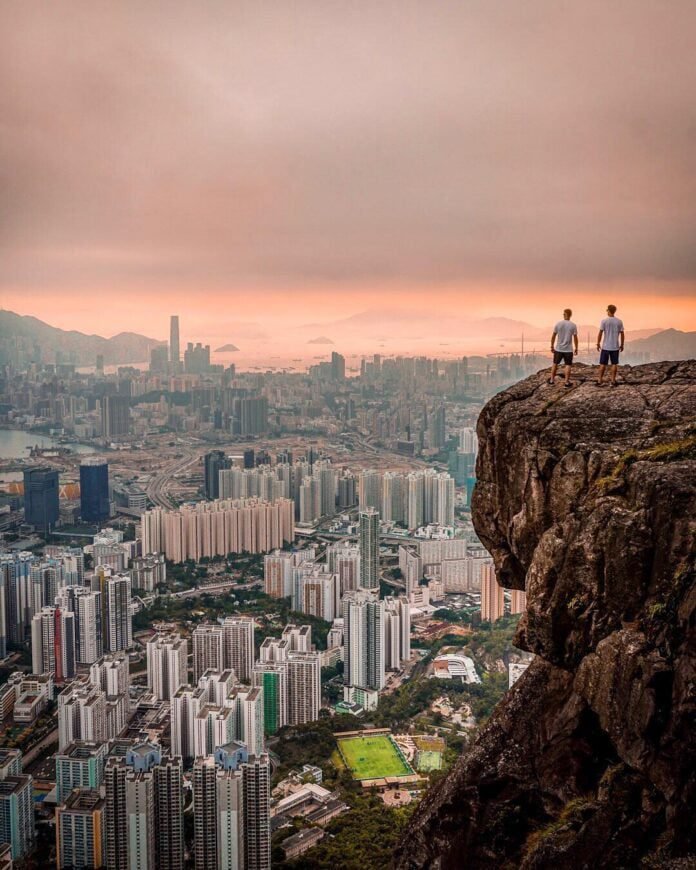 Picture Hong Kong and the first thing that strikes your mind is its imposing skyline soaring over the Victoria Harbor. A region that's deeply connected to its distinctive culture, Hong Kong immaculately blends Chinese, British, and indigenous influences.
What's more; Hong Kong is the region where centuries-old customs thrive, along with its iconic high-rises. From lesser-known streets to secret eateries, Hong Kong proudly houses plenty of hidden gems worth discovering.
Therefore, we've master-crafted a list of Hong Kong's topmost secret places that will bombard your Instagram with hearts. Read on to be in the know.
1. Marvel the Shek Kwu Chau

This outlying destination of Cheung Chau Island has enthralled visitors because of its wild stretch of coastline. But not many are aware of the incredible hideaway known as 'Shek Kwu Chau' that sits in its close proximity.
Shek Kwu Chan is a gorgeous, manmade island that houses extensive classical-inspired structures featuring colonnades and stone statues. It is surrounded by a mishmash of temples, and decorative features inspired by Chinese mythology.
What further adds to the beauty of this hideout is the Roman-style pool making it a picture-perfect hidden gem of Hong Kong.
2. Perfect Dive from Sai Wan Swimming Shed

While many people know about the famed Victoria Harbour, very few are aware of Sai Wan Swimming Shed' which makes the perfect place for a daring dive. Even better, the eye-catching view of the place is absolutely an amazing sight to behold which also makes it a photographer's paradise.
The shed looks the prettiest at sunset when you can capture the moment and share with your Instagram fam! What's more? The place feels like a magical hideaway- offering you a distinctive smell of the sea and the therapeutic sounds of the wave-splash! It definitely is an other-worldly destination giving you a divine feel.
3. Admire the Picturesque Temple Street Market

One of the most wonderfully photogenic markets in Hong Kong, 'Temple Street Market' is a perfectly buzzy display of fortune-tellers, antiques, and insanely delicious street foods.
While this picturesque street promises lots of amazing Insta-worthy portrayals, the secret to falling in love with this market lies at the top floor of the nearby Yau Ma Tea's parking lot from where you can capture an insane overhead view of the market.
4. Photo Shoot at Suicide Cliff, Kowloon Peak

Hop aboard the journey to the Kowloon Peak and find your way to the much lesser-known, but amazingly scenic 'Suicide Cliff'. This place may not be for the faint-hearted. The drop is deadly but the view is incredible!
Once at the cliff, you'll be surprised to find photographers with their tripods extended to capture the city from a unique and adventurous angle. The best time to visit this breathtaking place is at sunset, when the view is simply fantastic, giving you an insta-famous shot of the city lights.
5.  Explore Hong Kong Geopark

'Hong Kong Geopark' is one of Hong Kong's best-kept secrets that showcases the region's raw natural scenery and spectacular volcanic rock formations.
The best way to click memorable snaps is by joining a boat tour, which shows you several sea-stacks, rocky cliffs, isolated bays, sandy beaches, and sea caves.
6. A Walk in the Old Town Central

Come home to the city's oldest and most archetypal neighborhood that's a perfect breeding ground for history, arts, food and culture. The Old Town central is simply an art lover's paradise brimming with colonial monuments, temples, art-galleries, street-arts, and antique stores.
Take yourself on a self-guided walking tour through these Instagram-friendly streets where you can strike a pose in front of some extraordinarily exceptional graffiti while you explore each and every nook of old town central.
7. Tai O Fishing Village

With the pretty settings on the coast framed by the mountains and all the alluring coastal views, 'Tai O village' is every photographer's dream and definitely worth a visit. This small, quaint and picturesque village on the western coast of Lantau island is also home to the endangered Chinese White Dolphin.
Apart from obvious alluring coastal views and relaxing boat-rides around the traditional stilt houses, Tai O is arguably the best place for gobsmackingly fresh seafood and dried seafood products. Moreover, the slow-paced lifestyle of this village stands in contrast to busy Hong Kong.