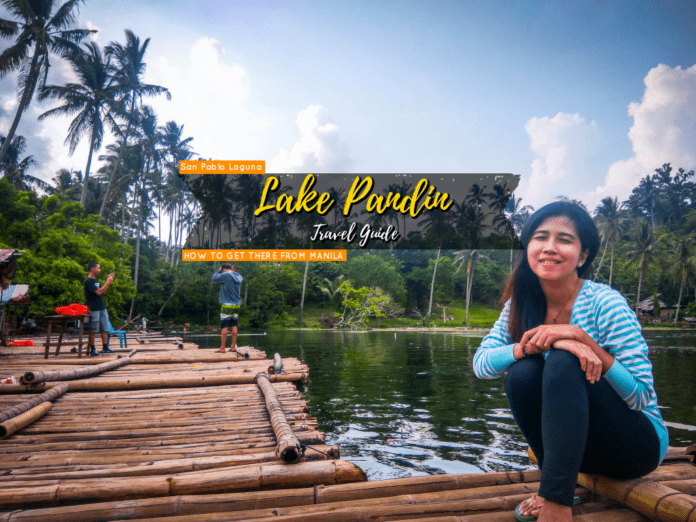 Lake Pandin is one of the naturally beautiful bodies of water situated in the city of San Pablo, Laguna – two to three hours away from Manila. The lake has luscious colors of green we would love. From its grasses to the trees, everything looks so stunning. The coconut trees that surround the area is just one of your-gonna-be favorites in this place.

Once you get to the entrance to Pandin Lake, there would be a short trek for about 15 mins to 20 mins. Mind you that there are slopes along the way and the weather might also be hot, so please take care of yourself. There also are guides going to Pandin Lake waiting at the entrance. There's no fixed payment for the guide so you can give them any amount that your heart could give openly. Lake Pandin 
Once you're in the location, a great scenery awaits. Plus, there also are stores that offer Halo-halo, Mais con Yelo, Calamay, Ube Halaya, Buko Juice, and a few to quench your thirst or fill your stomach after the short trek. 
How to get to Lake Pandin from Manila?
Ride a bus heading to Lucena, could either be JAC, JAM, DLTB, LLI, or any, as long as it is passing thru San Pablo. Tell the conductor to drop you off at 711 convenience store near San Pablo Church.
Fare: 127 pesos at JAC Liner. Travel time is around 2-3 hours.
Beside 711 convenience store are jeepneys bound to Nagcarlan-Liliw or Ilog. Tell the driver to drop you off at Pandin Lake entrance. The fare is around 20 pesos. Travel time is around 10-20 mins.


Activities in Lake Pandin
You may opt to rent a balsa or raft heading to the other side of the lake. When we were there, the rate is as follows (as of May 2017). As a safety precaution, you will be required to wear a life vest unless you're a good swimmer. The package is good for ONE HOUR only.
Balsa/Raft with meal (rice, fruits, viand): 360 pesos per person
Balsa/Raft with meal + Grilled Liempo: 400 pesos per person
Balsa only: 200 pesos per person
Tip: You can always haggle for the price but be mindful of the locals. Lake Pandin
>Overnight camping is not allowed in the lake (according to the locals). Their operations start as early as 6 am up until 6 pm to 7 pm.
>Also, note that the shower rooms and comfort rooms are not abundant as well.
Most bangkeros are young but they are good at their jobs. There's also a guide rope that they had to pull along to get to the other side of the lake. On that area was a parking spot for the balsa, a perfect little nook which is quiet and shady, there's also a makeshift swing tied to a tree that makes that side more enjoyable. Be careful when swimming as it has been reported that the plants in the shallow part of the lake are giving the guests some itch.

Friendly advice: People flock in Lake Pandin especially on a holiday so expect that you would wait for an hour or two for your turn to hop on to a raft to get to the other side. Again, weekdays are the best time to go there as there would be fewer people in the place.
Sidetrip: You may also ask the locals to guide you to Lake Yambo. Lake Yambo is located just beside the Lake Pandin but you would need to trek over to get to the next lake. Lake Pandin
Lake Pandin Gallery
These photos are from our friends who went to Lake Pandin.
Credits to my couple friend Bradford and Sharlene.

---
Recommended Reads
Daytour: Shercon Resort and Ecology Park in Batangas
Bato Springs Resort: Your 700 PHP Summer Getaway
Kamayan sa Palaisdaan Hotel and Resort in Tayabas, Quezon
Experience a Quick Japanese Staycation in Laguna with Makiling Onsen Hotel!