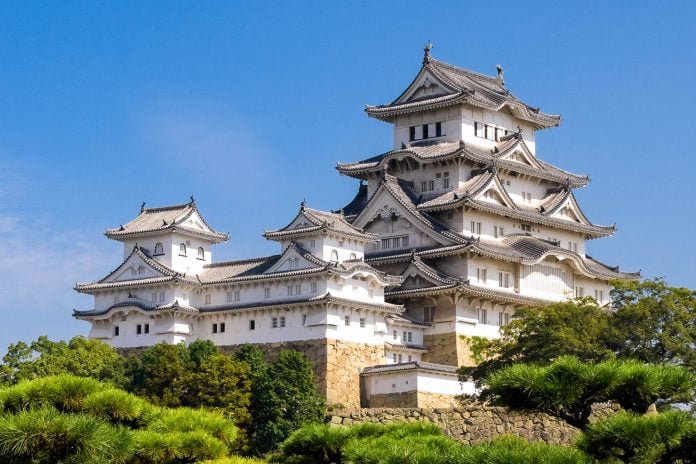 Ever dreaming of entering a humongous castle? How about the one with huge interiors, on a massive land, and on the top of a hill? In Japan, your dream is never impossible. Here's Himeji Castle, the largest and the most visited castle in Japan!
It was a rainy morning when we left Umeda. A day had already passed after hitting Universal Studios Japan and on this day, we're bound to go to Kinosaki Onsen but we'll have to drop by Himeji first to see the great white castle.
Himeji Castle was registered in 1993 as one of the first UNESCO World Heritage Sites in the country. It is also considered as one if Japan's premiere castles. The area within the middle moat of the castle complex is a designated Special Historic Site and five structures of the castle are also designated National Treasures.
Upon reaching Himeji Station, we immediately looked out at a window down the station and we can clearly see Himeji Castle on the high ground. This made us excited to get a closer look at the castle. From the station, you can just walk yourself to the castle.
We decided to rent a bicycle in the middle of the walk just to test it out and how the bicycle rental system works and it was amazing!
When we're inside Himeji Castle's grounds, no other thing can describe that amazing feeling. The park inside the gate was huge, it's covered in trees and in the center was a wide closed area. I, myself, wondered how this area looks like in spring, where the flowers and cherry blossom leaves are starting to grow, and in winter, where the castle is covered in snow.
Entrance and its Fee
The entrance fee on the castle is 1000 Yen and 1040 Yen if you wanted to take a look at the Kokoen Garden (a zen garden). There also are coin lockers in the entrance to cater your baggage needs. Since we had too many bags on us, this is pretty convenient.
The castle consists of six floors and you can climb up 'til the last floor. Since the castle was on restoration period when we got there, there are parts that were inaccessible and are still on repairs. Only the first floor had their decors on or those items that were used when the castle is on use several hundred years ago and are considered treasures of the past. Keep your head safe always as there are entrances to the upper floor and the passage hole isn't too big. Keep safe!
There was nothing much to see inside during that time but if you're an architecture student and a big fan of architectural structures, Himeji Castle is a must place for you. Some of the solid woods used in the castle are still intact and are dated like 200-400 years old. That's how sturdy it was.
Topmost Floor View
Since the castle is up on the hill, you can almost see the entire city on the topmost floor from all angles.


Himeji Castle is also a highly popular cherry blossom spot during the short and crowded blooming season which usually falls into early April. This is also where Okiku's well is located.


On this journey, we had known that Emil didn't know how to ride a bicycle and on his attempt he got a stumbled off the bike, but he was okay. We took care of his baggage since we're the ones on the bike and he just walked himself to the castle. Since it was drizzling too, he also got a slight fever to which made him stay inside on some of the castle's waiting area. He felt okay when we're heading out of Himeji and lead our way to Kinosaki Onsen.
---
Useful Links
Where to stay in Osaka via AirBnb?
Naked Public Bath at Kinosaki Onsen
5D4N Itinerary for Japan
7 Rides That You Should Ride On at Universal Studios Japan!
---
Book with Agoda and Booking.com!
[hoops name="agoda"]
[hoops name="Booking"]
---