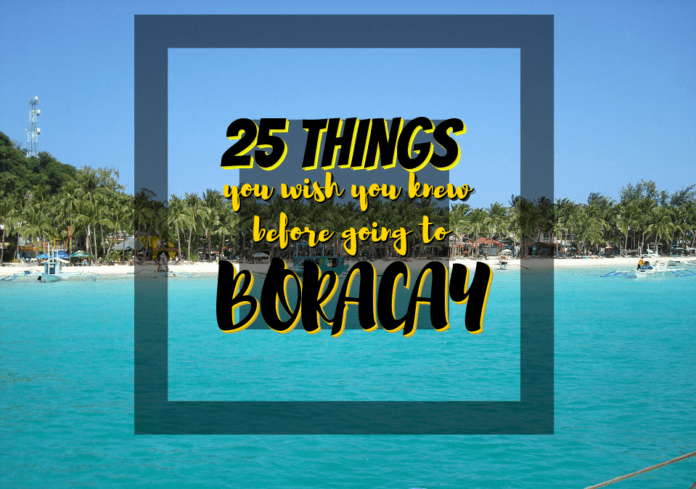 Known for its long stretches of beautiful beaches, Boracay attracts millions of local and foreign tourists each year. The world-renowned paradise island is truly a must-visit.
Before packing your bags and heading off to this vacation destination, learn about the many things that you would wish you knew before going to Boracay. From the things you should avoid to the ways you can experience the island on a deeper and more meaningful level, this travel guide provides the tips you need to get off to a great start.

Going to Boracay via Caticlan may be more convenient and faster, but it is going to cost you an arm and a leg. Flying via Kalibo is much cheaper, but it will leave you wasting hours traveling on the road. When traveling to Boracay, you must forego one thing in favor of the other. You may decide depending on what is more important at the moment: budget or time.
There is a much less known route to Boracay. You can actually go there by water, and without having to take a plane ride to Caticlan or Kalibo. You only need to take a bus ride from Cubao to Batangas, then take a RoRo boat ride to Caticlan. This route costs much less and has a meal included. The caveat is that the trip is going to take so much longer, up to 10 hours or more. If your time is valuable to you, this may not be your best option. But if you have time to kill and would rather hang on to some extra cash, then there is no harm in giving this option a try.



Photo courtesy of Hani_Han via Pixabay
The locals would appreciate you more if you call the place by its rightful name. Remember that it's Boracay, not Bora. Moreover, it will let you differentiate the paradise island of Boracay located in Malay Aklan, Visayas to Bora Bora in the South Pacific.
Not everyone knows this, but it is actually illegal to remove pebbles or sand from any of the beaches in Boracay.

Municipal Ordinance 310 dictates that people are banned from taking shells, pebbles or sand from any of the beaches. Those who are caught will be penalized with 1 to 3 months of imprisonment or a fine of Php2,500 for the first offense.




Photo courtesy of Myriams-Fotos via Pixabay
Smoking is also banned at the White Beach. Violators will be fined Php1,000 or may face imprisonment. You will have to move to designated areas, mostly on the beach path away from the beachfront, if you insist on smoking.
If you are not a strong swimmer, you must swim only between the Yellow and Red Flags. You must also make sure you keep yourself to areas patrolled by lifeguards. If you cannot swim at all, then you must make sure you don't go anywhere that is deeper than your waist height.



Photo courtesy of ed-davad via Pixabay
Make sure you have the henna tattoo done hours before you shower or go to bed. Henna ink is hard to remove and the hotel will charge you for any bed sheets or towels ruined by the ink. You may also want to have a skin test done 12 hours in advance as there are people who have experienced severe reactions to henna ink, with some resulting in unwanted scarring. 
Prostitution is illegal in the

Philippines

, and Boracay is no exception. If you are caught engaged in such an exchange, you face the possibility of being imprisoned until your trial is set, and this can take several years. It's simply not worth it, especially if you would consider the prison conditions in the country.



Photo courtesy of 2206088 via Pixabay
One sad truth about the paradise island is that you will encounter children begging on the streets. Worse, 95% of these children were smuggled to the island by syndicates. Giving them money is not going to help, as the syndicates will be collecting them. Report them to the authorities, or give them food and drinks instead.

Tourism in Boracay has reportedly caused a

decline of 70.5% in coral cover

from 1988 to 2011. And this is mostly attributed to unmonitored diving and snorkeling activities. Make sure you do not add to this figure. 





Photo courtesy of JanClaus via Pixabay

Accommodations tend to be fully booked during peak season, which is typically between September and May. Make sure you plan your trip ahead and have your accommodations booked in advance. [READ: Azalea Boracay: Living It Like You're In The Metro!]
Boracay has caught quite a party vibe. While this would satiate your social side, you would still want to have a quiet place to escape to after a long day of adventure. This is especially true if you planned a

romantic itinerary

. Arranging your accommodation in places that are relatively secluded, albeit still near key areas, is advisable. Places like the Alta Vista de Boracay or Coast Boracay provide a getaway in the often-crowded tourist destination.



Photo courtesy of CarinaChen via Pixabay
Traveling in Boracay is much more meaningful if you get to know the locals. Interact with the Ati tribe, and learn more about their expertise in flora and fauna. Take the time to visit Boracay's rustic countryside.
Boracay natives want you to be informed of the environmental and socioeconomic issues they are facing. They would appreciate if you could help them educate people about the pressing issues they are dealing with.

 


Photo courtesy of yrissari via Pixabay
Avoid purchasing anything from people who approach you on the beach. They often travel agents who will add unnecessary charges. You can visit providers directly instead.
 

Feel free to haggle. Cartels have been set up in Boracay, standardizing the prices of scuba diving and other popular water activities. You can still negotiate for a bargain privately though, especially for snorkeling, island hopping, and sailing.



Photo courtesy of stevepb via Pixabay
 

Most shops in the island's popular D'Mall offer western prices. You'd do better to shop somewhere less centralized.


 

Most hostels, hotels and food places have WiFi connectivity; 3G and 4G connections may be unnecessary.



Photo courtesy of lapping via Pixabay

 

Check if your place of accommodation is offering tours. These places often have in-house tour agencies or partner agencies that can offer competitive prices. It's more convenient as well, as you would be making the arrangements at the front desk.
 

If you plan to travel to the countryside, make sure you download offline maps via Google Maps. Remote places usually do not have WiFi or GPS available.



Photo courtesy of yrissari via Pixabay
 

Boracay is more than just the popular White Beach. The island has other beaches that are worth exploring, such as the Puka Beach, Diniwid Beach, Bulabog Beach, and Ilig-Iligan Beach. They all have white sand and boast their own distinctive charm.

[READ: Upgrade Your Boracay Staycation with Caipirinha Villa!]
 

Boracay is more versatile than most beach islands. Activities go beyond just swimming and sunbathing. You can do Boracay kitesurfing, go windsurfing, go zip lining, and so much more!




Photo courtesy of igorska via Pixabay
Boracay boasts an exciting nightlife, and many tourists visit the island mainly for that!
The famous island paradise is not only an upscale destination. You will find a range of accommodation and restaurant options that will suit your budget.
Boracay is world famous.  It has received various recognitions, including Top Island in the World in 2016 and 2017 by Condé Nast Traveler and  Best Island in Asia from Travel + Leisure's World's Best Awards. One must simply cherish the time spent on the prestigious island!
Now go and work on an awesome Boracay itinerary of your own!
Check and book flights to Boracay
Book your hotels for Boracay
[hoops name="MatchedContent2″]