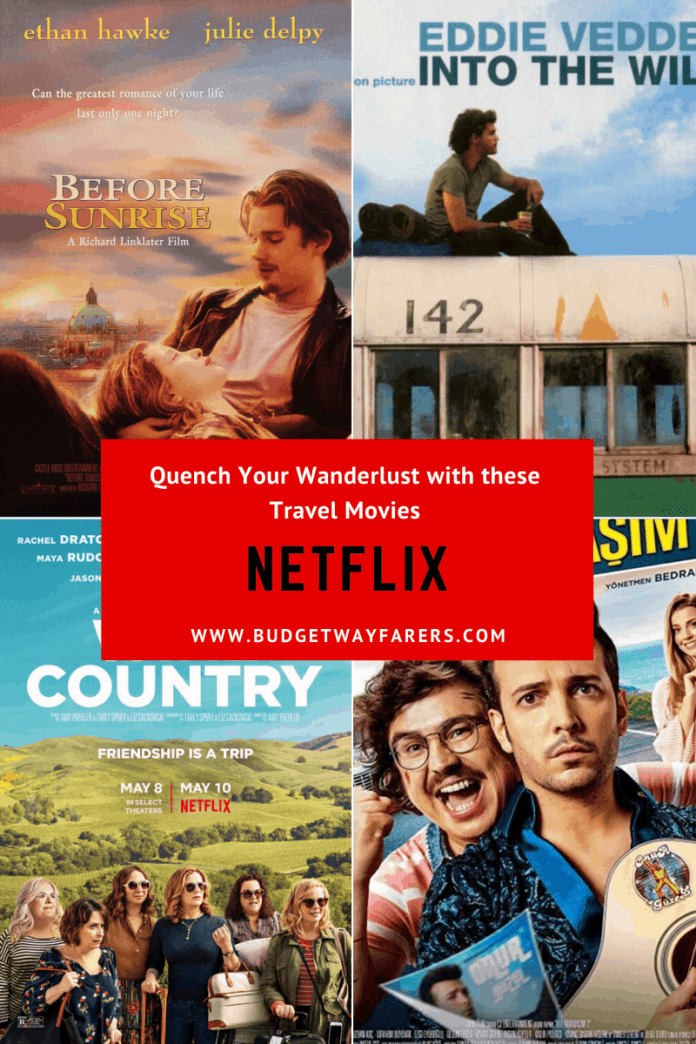 When you have nothing to do, watching a movie can entertain you. For the same reason why people read, watching films can also help you imagine places, people, and think of new destinations to visit for your next trip.
Thanks to technology, there's no need to buy movies or go to cinema theaters to enjoy travel films. Online streaming services, like Netflix, offer a vast collection of travel movies you can watch at home. If you love traveling but don't want to leave home, Netflix is the answer.
Here is a list of some of the most loved and blockbuster travel films available for streaming on Netflix. You can watch these movies on your phone, tablet, computer, or television set with the help of a Wi-Fi connection.

Amélie, 2001
A quirky and fun character, Amélie Poulain, takes you into the beautiful neighborhoods in Paris, where she grew up and was homeschooled. The film revolves around an imaginative protagonist who is bound to help others find happiness despite the circumstances.
In the journey to helping others discover joy, Amélie also finds her true love. Watching this film on Netflix will make you want to buy a plane ticket bound to Paris and visit the places in this Netflix movie.
Roma, 2018
One of the classic travel movies you can watch on Netflix is Roma. It is a story of family and the importance of taking a break from life itself. The film was set in Mexico City in 1970 where the protagonist played the role of a domestic worker.
Watching this black and white film is surreal as it takes you to urban life in Mexico and opens your eyes to the issues surrounding poverty and a broken family. While the locations aren't aesthetically pleasing, it willmake you want to experience what Mexico has to offer.
Babel, 2006
Brad Pitt isn't the only reason to watch this movie because Babel also showcases the bizarre beauty of Morocco and Tokyo. Babel takes viewers into the story of a group of people struggling with emotional stress from traumatic experiences.
Cate Blanchett and Brad Pitt played husband and wife, with their vacation cut short by a tragedy. This traumatic situation brought them to three other families who are all impacted by the unfortunate event.
Lost In Translation, 2003
Ever wonder what things you can do in Tokyo while on a work trip? Lounging at your hotel is one but Tokyo nightlife is unpredictable and you can be in a rollercoaster experience. Lost In Translation is a film about discovering a friend you can lean on in times of distress.
The movie was set in Tokyo, Japan, where the protagonists, Bill Murray and Scarlett Johansson, discover what the city has to offer. From drop-dead karaoke nights to interesting local bars and temples, the film unravels Japanese culture and the eccentric nightlife in Tokyo.
Wine Country, 2019
What happens when a group of middle-aged women takes a trip to Napa Valley to celebrate a friend's 50th birthday? This feel-good comedy film explores the stage after motherhood and finding a woman's purpose after raising children.
The movie on Netflix will make you sip wine and take a trip to the countryside for an adventure. The Wine Country features the amazing vineyards in California and the long stretch of scenic Napa Valley. All in all, it is a movie full of drinking, laughter, and embracing change as you get older.
Cast Away, 2000
One of the best Tom Hanks films ever is Cast Away, a story of a lone plane crash survivor who learned how to survive on a deserted island on his own.
His character is a FedEx employee named Chuck Noland who was traveling to Malaysia for work when the plane crashes in the Pacific island.
The movie featured the beautiful Monuriki, Mamanuca Islands, where it was set. Following the film's release, the island became a tourist attraction that travelers visit. A great watch on Netflix.

Bottom Line
Who says you can't see beautiful places while staying at home? By watching these travel movies, you can see the beauty of cities in different parts of the world. You simply need an internet connection, a device, and a Netflix account.