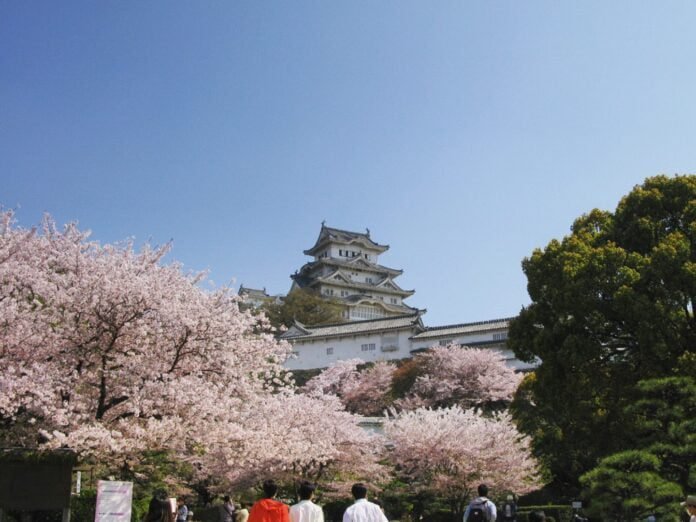 25 Must Visit Places in Japan (by Travel Bloggers)
If there's any country in Asia that speaks of great people, power, and respect, Japan would always probably number one. The economy has risen so much from being one who got bombed during World War II. The people got so much respect towards one another, other people, and the environment. Hence, it became my and almost anyone's favorite country to visit.
Now, I know you are researching for the must-visit places in Japan in this new era and here are a few of them that have been visited by Travel Bloggers around the world that they most recommend.
Himeji Castle
Recommended by: Kenny Chow of Knycx Journeying | @knycx.journeying


There were thousands of castles in Japan since the Sengoku Period; Unfortunately, the majority of them were destroyed due to fire, disasters, or war over the years. Today, about a hundred castles were rebuilt and restored, and the Himeji Castle is one of the twelve "original" castles left standing and the only one that listed as a UNESCO World Heritage Site since 1993.
Admire the architecture, design, and art; the best time to visit the castle is during the cherry blossom period in April. The pink Sakura and blue sky are the perfect canvas to highlight the gorgeous white castle
2. Kyocera Dome in Osaka
Recommended by: Anthony Jury of Fair Dinkum Traveller | @fairdinkumtraveller


When you want to do something a little different in Japan, how about going to a game of Japanese Baseball at Kyocera Dome in Osaka. The home of the Orix Buffaloes. The atmosphere is always electric inside the indoor Dome, with constant cheering, singing and
banging of the drums creating the buzz. It's great to sit back for a few hours to enjoy the sounds of baseball and the passion that lies within the popular sport.
The season runs from Late March to October, so when The Buffaloes are playing a home game at the Dome, it's the best time to see what all the fuss and noise of Japanese baseball is all about.
3. Iga-Ueno Ninja Mura
Recommended by: Thais Saito of World Trip Diaries | @wtripdiaries

Visiting a Ninja Village in Japan was one of the coolest experiences we've had there!
Even though the actual history of ninjas isn't entirely known, one of the biggest clans used to live in the Iga-Ueno region.  That's where we found the Iga-Ueno Ninja Mura.
It has a museum, a ninja house, a ninja demonstration, and an area where you can try your hand at throwing REAL shuriken (ninja-stars) at a target!
If you like cosplay, you can start at Iga-Ueno Castle and rent a ninja costume – do the whole thing in ninja clothes!
Best time to visit: any sunny day as most of the attractions are in the open.
Location: Iga-Ueno, Mie-ken (just South of Nagoya)
4. Metropolitan Government Building
Recommended by:
Rachel Rodda of Adventure and Sunshine | @adventureandsunshine

Taking in the size of Tokyo from up high is an essential experience when visiting Japan.
There are several places to go for great views, but our top tip is to visit the Metropolitan Government Building. The observation deck is 202m high with 360-degree views across the city.
While it isn't the tallest observation deck in Tokyo, entry to this building is free.  In a city where many travelers are trying to save money, this makes it a great choice.
Just a ten-minute walk from Shinjuku station, with a bar at the top, the Metropolitan Building is great to visit at any time of day and any time of year. But, seeing the glittering Tokyo skyline by night is a pretty special experience and our recommended time to visit.
5. Miyajima Island
Recommended by: Rhonda Krause of Travel? Yes Please! | @travelyesplease


For centuries, Miyajima Island has been known as one of the Three Most Scenic Spots in Japan. Whether its views of the Seto Inland Sea from the top of Mt. Misen, or the iconic "floating" torii gate of Itsukushima Shrine, there are plenty of beautiful scenes to enjoy in Miyajima. In addition to shrines, temples, and hiking paths, the island is also home to free-roaming deer, which are quite entertaining to watch as they steal maps and food from unsuspecting tourists! Must Visit Places in Japan
Spring and fall are good times to visit Miyajima because the weather is mild, and cherry blossoms and fall foliage add color to the landscape. Miyajima Island is located about 40 minutes away from Hiroshima and can be reached by a combination of train and ferry.
6. Shibuya Crossing
Recommended by: Katie Diederichs of Two Wandering Soles | @twowanderingsoles


Shibuya Crossing is far from off the beaten path, and that's kind of the point. Smack dab in one of the busiest areas of downtown Tokyo, this intersection is said to be the busiest street crossing in the world. It is at this point where 5 major crosswalks intersect, and whether you're there morning, noon or night, you will find hordes of people all looking to do the same thing: get to the other side of the road. At peak hours, it is said that upwards of 2,500 people cross this intersection at once!
Making the chaotic journey across the street is a must when visiting Tokyo. Simply walk out the Hachiko exit at the Shibuya Metro Station, and you're there! Wait at the corner of the sidewalk until the walk light illuminates (or just wait until everyone else starts crossing, because there will be plenty of people to follow!). All sides of the street cross at once while cars wait their turn.
You might want to turn on your phone's camera and record the scene as you cross, but make sure you watch where you're going too. In all the chaos that surrounds you, it can be easy to jump right into those around you! While it really doesn't matter what time of day or year you visit, try visiting this crossing once during the daylight hours and once at night if you have the time – it has a much different vibe once the sun goes down (especially on a weekend night!). Must Visit Places in Japan
7. Okunoin Cemetery
Recommended by: Talek Nantes of Travels with Talek | @travelstalek


Okunoin Cemetery in the Temple town of Koya-san, or Mount Koya, is one of the most interesting sights I've ever seen while traveling.  At 1,200 years old – yes, you read this right – Okunoin Cemetery is the oldest in Japan.  It is also the biggest with over 200k souls represented. No one knows the exact figure as the cemetery's history is shrouded in mystery.
Two features stand out in this cemetery; the little statues representing children that left this earth before their time, and the tombstones.  In keeping with the local religion of Shingdon Buddhism, some of these were created to honor the lives of deceased creatures like insects or way enemies.
It's a different world in this fascinating cemetery. It's always a good time to visit. All seasons have their special beauty and charm.
8. Ice Walls on the Tateyama Kurobe Alpine Route
Recommended by: Anne of Japan Travel Planning | @JapanTravelPlanning

A few years ago I saw a photo of the ice walls on the Tateyama Kurobe Alpine Route in Japan and decided that I wanted to visit one day.  Well that day was just under one month ago where my dream finally came true!  And the weather was perfect for a trip up into the mountains in Japan, which was an even better bonus.  Each year in mid April the Tateyama Kurobe Alpine Route road is carved out of the ice – which results in amazing ice walls which can be as high as 15-20 m high, which then progressively melt by June once summer arrives. Must Visit Places in Japan
Best Time to Visit:  The best time to visit is from mid-April to the end of May each year, and be aware that it will be busy as it is a very popular time to visit!
Location:  The Tateyama Kurobe Alpine Route is located between Nagano and Toyama, which are both easily accessible via a 2-3 hour shinkansen train journey northwest from Tokyo.
9. Oirase Gorge
Recommended by: Stephen of A Backpacker's Tale 


Oirase Gorge gives visitors a good taste of a fraction of the beauty that encompasses Northern Japan.  As you walk, cycle, or drive through this picturesque river valley, you are treated to over 14km of gushing rivers, extraordinary waterfalls, and precipitous rock formations. This dramatic landscape is especially appealing during the fall months when the rich green landscape transforms into autumn tones of gold and red.
10. Fushimi-Inari Shrine
Recommended by: Sally Lucas of Our3kidsvtheworld


A highlight from my visit to Kyoto was definitely visiting Fushimi Inari Shrine. This Shinto Shrine is one of the busier temples in Kyoto so I recommend you get there early in the morning and go as far up the hill as you can. The higher you go, the more chance you have of getting photos without anyone in them. The Shrine sits at the base of Mt Inari and the trail to the top is lined with red Torii gates, the climb to the top is 4kms and will take about 2kms. The best time of year to visit is between March-May and September – November, this is during Spring and Autumn. Must Visit Places in Japan
11. Kinosaki Onsen
Recommended by: Sophia Ng of Onebluehat | @onebluehat

Kinosaki Onsen is a charming town close the to Sea of Kyoto in the Kansai region. It is 2.5hrs from Kyoto. It is definitely one of the best places for a ryokan (traditional Japanese inns) and onsen cultural experience. Famous for its hot springs, it offers seven uniquely designed public onsen bathhouses, each with its own health benefits. Many who visit roam around in a yukata robe (light cotton kimono) and hop from one onsen to another.
Winter is the best time because if you are into food, you can enjoy the specialties of locally harvested Matsuba (snow) crab (harvested from November to March) and Tajima Beef.
12. Kinkaku-ji Temple
Recommended by: Jess & Ron of Unearth The Voyage | @unearththevoyage

Japan is an amazing country and there is so much to see and do, but one of the most famous things to see is the Kinkaku-ji temple located in Kyoto. Kinkaku-ji literally translates to "temple of the golden pavilion" and the temple is a gorgeous gold-colored building perched on the side of a shiny lake right in the center of the historical town of Kyoto. Kinkaku-ji is one of the most visited temples throughout all of Japan and for good reason. The temple itself is gorgeous, but the rest of the grounds surrounding the temple are also something to see. Take some time strolling the path around the lake and soak up the zen peacefulness this place has to offer. Don't forget to get a photo of the gold temples reflection in the lake!
13. Arashiyama
Must Visit Places in Japan
Recommended by: James Ian of Travel Collecting | @mytravelcollecting

Arashiyama is, along with Gion, the most-visited part of Kyoto – and there is a reason. It's a beautiful area, focused around a picturesque river, strewn with gorgeous temples, home to one of the few hot springs in Kyoto, and the site of the incredible bamboo forest. The centerpiece is the famous Togetsu-kyo Bridge, an obligatory photo spot. You can rent boats nearby to row along the river.  It's especially beautiful in spring during the cherry blossoms season and fall when the sides of the river are ablaze from the maple trees. Other highlights of Arashiyama are the Bamboo Grove, where there's a famous path through towering green bamboo, and Tenryu-ji temple, a large Zen temple complex with a beautiful garden.
The best way to experience Arashiyama is to stay in a ryokan (traditional Japanese inn), the best of which have their own onsen (hot mineral springs) – read about the best onsen in Arashiyama here. If you decide not to do that, an alternative is to visit Tenzan-no-yu Onsen and spend an afternoon soaking in therapeutic mineral water.  There is a lot to do in Arashiyama.
Best time to visit: Arashiyama is lovely in every season, but especially gorgeous in spring for the cherry blossoms and fall when the maple trees turn brilliant red and orange
Location: Arashiyama is on the western edge of Kyoto, about 30 minutes from the city center. Must Visit Places in Japan
14. Nara Deer Park
Recommended by: Megan Johnson of Red Around The World | @redaroundworld


Nara Deer Park is a park full of wild deer that you can feed in the city of Nara.  There is no bad time to visit this fun park and spend some time hanging out with the deer.  For about 500 Yen, you can get a pack of deer cookies to feed them.  Just hold one out on the main walking area and you'll be surrounded in no time, but be careful.  They are still wild and will bite.  If you're wearing anything loose or strappy, they might pull on it.  If you want to get away from the crowds, just walk further into the park.  There are still plenty of deer to see.
15. Gion District
Recommended by:
Melissa of Parenthood and Passports | @parenthoodandpassports


The Gion District of Kyoto is one of considered the birthplace of geisha culture. Known for their white makeup, elegant kimonos, and perfectly kept updo hairstyles, geishas are young women who have train for years in in the traditional Japanese arts. You also won't find these poised performers walking the streets of Gion or willingly posing for photos with tourists, but if you're lucky you might catch a glimpse of a geisha going to or from a performance in one of the traditional wooden buildings that make up Gion.  Dusk is the best time to visit Gion if hoping to spot a geisha. Make sure your camera is ready because once a geisha emerges, she will be quickly whisked away through a sea of camera flashes. But even if you don't spot a geisha, Kyoto's beautiful and historic entertainment district is a must-visit in Japan.
16. Hiroshima
Recommended by: Sylvia Van Overvelt of Wapiti Travel | @wapititravel

When thinking about Hiroshima most people immediately think about the atomic bomb.  The city does have other tourist sights as well but without a doubt, a visit to the Hiroshima Peace Park is one of the main things to do in Hiroshima.
The dramatic history of the city has been given a beautiful place in the Peace Memorial Museum. We were touched by the many stories about how the survivors had to rebuild their lives and their town.
After your visit to the museum, you can take a walk through the serene park with various monuments in memory of the many thousands of victims.
The park is centrally located in the city on the spot that was the target of the attack and is easily reachable with the tourist hop-on-hop-off bus. Must Visit Places in Japan
17. Shinjuku Gyoen National Garden
Recommended by: Matilda of The Travel Sisters | @thetravelsisters1

Shinjuku Gyoen National Garden in 
Tokyo
 is a large and beautiful park and a relaxing and quiet oasis in the middle of the hectic city.  It is also one of the best places in Japan for cherry blossom viewing (hanami).  There are three different types of gardens (Japanese traditional, landscape and formal) as well as tea houses, ponds and bridges.  While it is beautiful all year round, the best time to visit Shinjuku Gyoen is in the spring (usually late March/early April) when the cherry blossoms reach full bloom.
18. Shirakawago
Recommended by: Vicki Franz of Vicki Viaja | @vickiviaja

Shirakawago is a small village located on the border between Gifu and Gokoyama Prefecture. If you want to discover traditional Japan, this is the perfect place for you to visit. Between a lot of beautiful nature, you can find the small wooden houses of Shirakawago. Especially the part called Ogimachi, Shirakawago stands out with its beautiful architecture. The shape of the roofs of the houses in the village are representing folded hands for prayer. Since 1995 parts of Shirakawago are even considered a UNESCO World Heritage Site.
Shirakawago is a perfect day trip in any season. In the summer, spring and autumn, you can discover breathtaking nature here, while the place evolves into a true winter wonderland during the winter.
19. Matsumoto Castle
Recommended by: Keri Underwood of Quiet Girl Loud World | @quietgirlloudworld


Matsumoto, just over a three-hour train ride from Shinjuku station, is the perfect escape from the metropolis of Tokyo. Amidst the Japanese Alps, you will find Matsumoto. The city is commonly known for Matsumoto castle, also referred to as "crow castle" due to its black roof and trim. It is arguably the oldest standing castle in Japan, meaning that it has never been rebuilt.
When visiting Matsumoto, touring the castle is a must, however, there are plenty of other
activities in the area. Explore the Timepiece Museum, slurp some soba, and take a stroll through Joyama Park. If you love to hike, you can base yourself in Matsumoto and head out into the mountains. Must Visit Places in Japan
Matsumoto is magical in the spring when the cherry blossoms float through the air and Spring festivals open the castle up at night to celebrate. Make sure that Matsumoto is a part of the itinerary for your next trip to Japan!
20. Takada Castle and Park
Recommended by: Maria & Rui of Two Find a Way | @twofindaway

The Takada Park is located in Joetsu, a city nestled by the Japanese Alps that most tourists don't hear about. The fact that you don't hear about it in most guides is part of the reason why it's so charming, and why you'll get a truly local feel when visiting.
The Castle dates back to the 17th century and is only one of the Park's attractions. The Winter is a great time to visit for its snowy mountain views and activities, but this area (literally) lights up in the Spring during the cherry blossom season. The Takada Park counts with more than four thousand trees, beautifully illuminated by paper lanterns. Even though you might never have heard of it before, t is actually one of Japan's most famous nighttime cherry blossom viewing events.
21. Snow Monkey Resort
Recommended by: Lora Pope of Explore with Lora | @explorewithlora

If you love cute wildlife encounters, Snow Monkey Resort is a must visit place on a trip to Japan. Located in Nagano, Japan, Snow Monkey Resort park was established in 1964 as a conversation area to give the Japanese Macaques a refuge in their natural habitat. At the park, you can observe the wild monkeys going about their daily lives, which includes the fascinating behavior of bathing in the natural hot springs.
The monkeys are found in the park throughout the year, but the best time to see them is during winter. The monkeys love to keep warm in the springs during the cold winter, and the snowy backdrop makes for a magical setting.
22. Nanzoin Temple near Fukuoka
Recommended by:
Helen Foster of Helen, Destination>Differentville | @differentville


This temple nestled high in the hills is one of the must-see sights in Fukuoka, Kyushu. It's home to the world's largest bronze statue (41 metres long and 11 metres high) – a reclining Buddha that will dwarf you as you stand in front of it, stunning you into silence as it does so. The priest here has banned large tour groups so it's rarely very crowded. To get there jump on theFukuhoku Yutaka line from Hakata station for about 30 minutes. Get off at KidoNanzoin–mae and follow the signs to the temple.
23. Asakusa in Tokyo
Recommended by: Chloe of Chloe's Travelogue | @chloestravelogue

Asakusa is one of the must-visit places in Tokyo, where visitors can explore the ancient streets from the Edo-Period and experience Japanese traditions. 
The area is also known as the spiritual center of Tokyo with the Senso-ji temple. Without a doubt, the oldest and largest Buddhist temple in the city is the major attraction in Asakusa. 
Walk through the iconic Kaminarimon Gate with a large red lantern, and you will reach Nakamise-Dori. It's a fun street to shop souvenirs and nibble traditional Japanese snacks. Once you enter Senso-ji, you can draw your fortune, heal your spirit and make a wish. Feel free to take photos as it is the only Buddhist temple that lets you snap photos inside the temple. And don't forget to take your time exploring the outdoor temple ground; the vast temple compound also includes a Japanese garden and a Shinto shrine with a Torii gate.
I recommend one full day in Asakusa because the historic district is much more than the Senso-ji Temple. It is home to the oldest amusement park in Japan, the world's tallest tower, and many delicious food and desserts. Find out more things to do, see and eat in Asakusa here.
24. Studio Ghibli Museum in Tokyo
Recommended by Serena Cao of Serena's Lenses | @serenaslenses
Studio Ghibli Museum is one of the must-visit places in Japan. Located in Mitaka in Tokyo, Studio Ghibli Museum is famous for its many animated films, such as Spirited Away, Castle in the Sky and My Neighbor Totoro. This museum showcases the mechanics of the making of its numerous animated films as well as various exhibitions.
Photography is not allowed inside the museum (ok for the courtyard). Advanced ticket purchase is required to visit Studio Ghibli and tickets tend to sell out months in advance. In order to access the Studio Ghibli Museum, you must take the Tokyo subway to Mitaka Station and take a community bus from Mitaka Station to Museum.

25. Hakone Shrine
Recommended bySean Lau of LivingOutLau | @livingoutlau


The Hakone Shrine is a mesmerizing destination located in the city of Hakone, just a little more than an hour away from Tokyo. While people mostly come here to escape the bustling city life of Tokyo and enjoy the onsens (hotsprings), there is a very iconic shrine on lake Ashi. Situated right on the edge of Lake Ashi, the Hakone shrine is a very serene and magical place. Make sure to come at sunset when you visit because the view is absolutely spectacular

In this list of 25 best places to visit in Japan, how many have you visited or what place you are looking forward to visiting?  Must Visit Places in Japan

WHAT TO READ NEXT