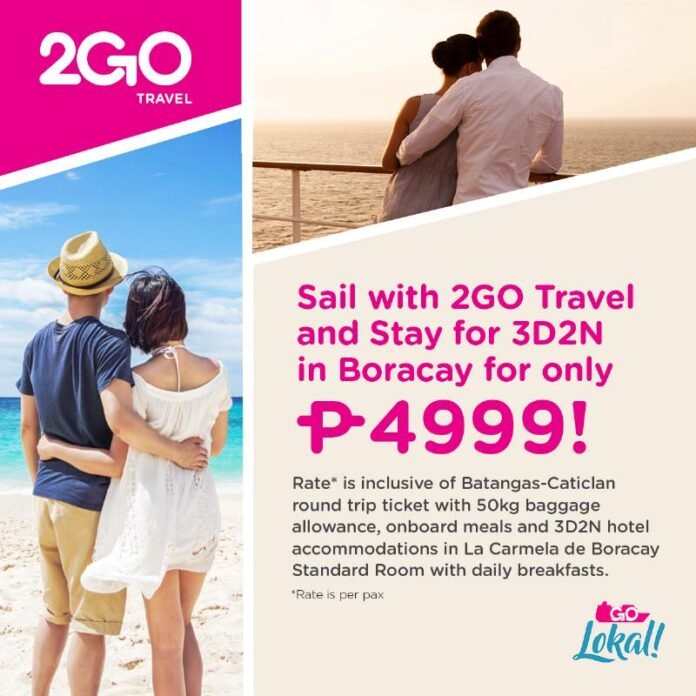 More Filipinos can now enjoy the sun and sea of the world's best island, Boracay as 2GO Travel, the Philippines' largest premier sea travel provider launches the most affordable sea and island accommodations package, Sail & Stay for only ₱4,999 per person.
2GO Travel, together with its first partner hotel La Carmela de Boracay, is offering the most budget-friendly vacation. The Sail & Stay package is inclusive of a roundtrip ticket from Batangas to Caticlan in Tourist class accommodation with full board meals, 50kg baggage allowance, service fee, and all auxiliary charges, plus three days, two nights hotel stay in a standard room with free breakfast for two in Boracay.


"It's love month, and we want to make our guests feel loved by gifting them the best Philippine vacation deals for sea travel. With Sail & Stay, we make it cost-effective and convenient for our passengers, wherein Day 1 of vacation starts onboard, perfect for couples who want to celebrate special occasions away from the city," said 2GO Assistant Vice President for Marketing Blessie Cruz.
Travel more for less, and book your Sail & Stay package today through May 31, 2021 for check-in until the end of December this year. Call 2GO's Customer Interaction Center (CIC) at (02) 8 528 7000 or email 2GO Group Sales at [email protected].
On top of the best deals by Sail & Stay, travelers can avail of subsidized COVID-19 RT-PCR (Real-Time Reverse Transcription Polymerase Chain Reaction) tests, which are offered by the Department of Tourism (DOT) and the Tourism Promotions Board (TPB) Philippines. Health and safety protocols for travel such as the usage of the Traze Contact Tracing App and personal protective equipment as well as the practice of social distancing are still in place from check-in, boarding, and disembarkation.
ABOUT 2GO GROUP, INC.
2GO Group, Inc. is the Philippines' largest integrated transportation and logistics provider, at its core has five business units, namely, 2GO Sea Solutions, 2GO Special Containers, 2GO Logistics, 2GO Distribution, and 2GO Express.
Backed by 148 years of expertise in transportation and logistics, 2GO has made a mark for providing the best travel experiences, efficient movement of products and cargoes, and catalyzing business growth in domestic and international markets