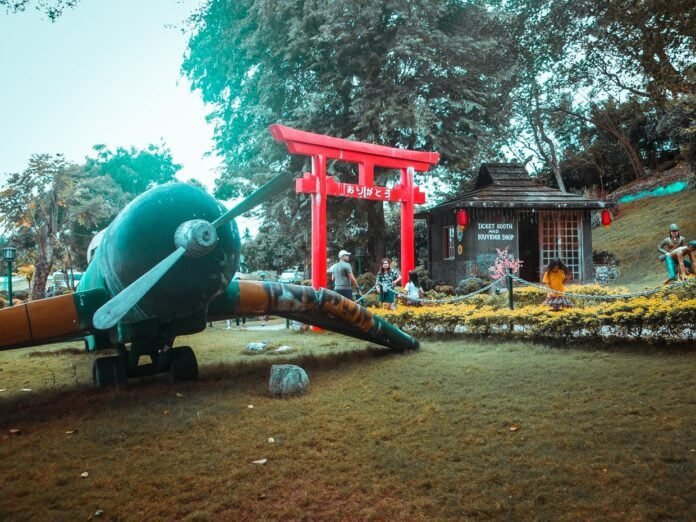 Did you know there was a tunnel that has been discovered in Iligan City, Isabela? There's more than just Bambanti Festival, rice field, corn fields, and crops.
Ilagan Japanese Tunnel, Isabela

They call it the Ilagan Japanese Tunnel which apparently has been used by the Japanese soldiers as base/prison during the World War II.
People have confused it for a cave although it's actually a man-made tunnel crafted in distress with the sweat and blood of the detained Ilagueños. It served a lot of purposes such as a jail to the Filipino guerrillas during the war and a storehouse of guns, treasures, and hidden wealth.
Feel like you are traveling back in time through the Ilagan Japanese Tunnel as the government has set-up a sound system to create sound effects feels in the area. There also were replicas of Japanese soldiers and Filipino prisoners (imagine that with sound effects).
Those who have first found the cave stated that there had been relics or pieces of gold bars laying on the ground. Also, a Golden Buddha was inside the cave when it was first found but it has now been replaced by a replica. There were also other replicated memorabilia like bombshells, some guns, a golden fan, a few weapons, and some uniforms in that era.
The Japanese Tunnel in Ilagan City in the province of Isabela has been unfolded to the public since February 16, 2016, through Mayor Josemarie L. Diaz. Regarded as one of the historical and cultural heritage of the town, the tunnel was restored, reconditioned, and conserved by the city government to give everyone a slice of the Japanese traditional culture and a slab of knowledge on how the Filipinos suffered in the hands of these conquerors.
Other activities in the Ilagan Japanese Tunnel
The outside garden of the Ilagan Japanese Tunnel has been designed to look like the parks of Japan. Outside is a Shinto shrine similar to the looks of those in Japan, and a jet plane. On the other side is a zen garden, if you have been to Japan, you'll know that there is a similarity in the design, which means, they did a good job of landscaping the area to look like one.
You may also rent a Kimono and roam around the area for just P50 pesos. Take awesome pictures whilst in a Japanese Traditional Dress carrying a Japanese umbrella for a more authentic feel. You can have your hair styled as the Geisha's as well (just like my friend, Rona, on her photo below.)
There's also a souvenir shop nearby to buy your favorite stuff or memorabilia from your visit to Ilagan Japanese Tunnel.

---
How to get to Ilagan Japanese Tunnel
•If coming from the South (Manila, Santiago, Cauayan, Isabela), ride a bus or van bound for Tuguegarao City; (take note that Ilagan City is a 10-hour drive from Manila)
•From Tuguegarao City, ride a bus or van bound for Santiago City.
•Alight at Ilagan City (drop-off point is somewhere around the Butaka.
•Take a tricycle to Japanese Tunnel. Fare is at 40php/ride.
•Upon your arrival, pay an amount of 50php for the entrance fee.
---
[hoops name="InArticle"]