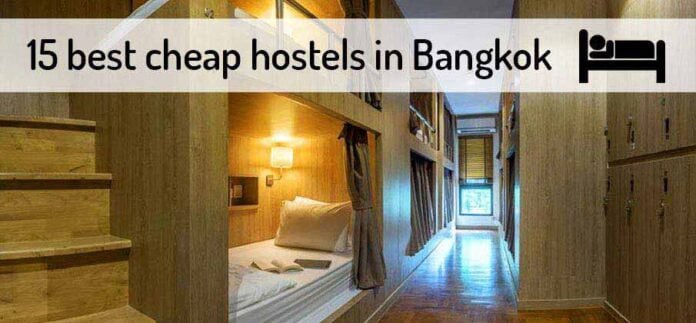 Every traveler knows the need to have a great accommodation without spending too much money. Bangkok is one of the few cities where the nightlife is alive, foods and drinks are cheap, and most of all, they have the cheapest hostels and hotels. Thailand has it all from solo traveler's preferred accommodation to accommodations that are perfect for honeymooners, or even family friendly hotels you could stay at.
Have an itinerary ready and book your cheap accommodation today!
Here's a list of the cheapest and best hostels in Bangkok that is recommended by travelers.
[SEE ALSO: 15 Best Luxury Hotels in Bangkok, Thailand]
1. Prime Hotel Central Station Bangkok

Sleek and contemporary, this upscale hotel is a 4-minute walk from Hua Lamphong train station and 5 km from the shopping and entertainment at MBK Center.
Check Rates | Agoda!Check Rates | Booking.com
2. Kama Bangkok

Great location, great staff, great music, delicious food, clean comfy rooms.
Check Rates | AgodaCheck Rates | Booking.com
3. Lub d – Bangkok Silom

Simple rooms with vibrant decor come with en-suite bathrooms, free Wi-Fi, flat-screen TVs, and desks. Mixed gender and all-female dorms have bunk beds, personal lockers.
Check Rates | AgodaCheck Rates | Booking.com
4. NapPark Hostel @ Khao San

Spartan, modern dorms, with colorful accents and bunk beds, feature free Wi-Fi, individual lockers , nd private TVs.
Check Rates | AgodaCheck Rates | Booking.com
5. Good Day Hostel

The airy, subdued dorms have bunk beds and come with free Wi-Fi, bed linens and lockers. Private rooms are available. Best Hostels in Bangkok
Check Rates | AgodaCheck Rates | Booking.com
6. Bed Station Hostel

Featuring concrete floors, the minimalist, mixed-gender and female-only dorms sleep 4, 6 or 8. All provide bunk beds, lockers and Wi-Fi.
Check Rates | AgodaCheck Rates | Booking.com
7. The Yard Hostel Bangkok

Bright, mixed-gender and female-only dorms offer complimentary Wi-Fi, lockers and reading lights. Shabby-chic private rooms add garden terraces. Best Hostels in Bangkok
Check Rates | AgodaCheck Rates | Booking.com
[SEE ALSO: Thailand 5D4N Travel Itinerary | 3 CITIES FOR ONLY 9K PHP [Bangkok, Ayutthaya, Pattaya]
8. Slumber Party Hostel by Bodega Bangkok

Simple mixed and female-only dorms feature metal-framed bunk beds, and sleep up to 14 guests. All come with complimentary Wi-Fi and linens.
Check Rates | AgodaCheck Rates | Booking.com
9. Everyday Bangkok Hostel

The simple female-only and mixed-gender dorms feature colorful walls with murals and have bunk beds, lockers, and free Wi-Fi. cheapest and Best Hostels in Bangkok
Check Rates | Agoda Check Rates | Booking.com
10. Bed Bangkok Hostel

Well-positioned in Sukhumvit, Bed Bangkok Hostel is the ideal point of departure for your excursions in Bangkok. From here, guests can enjoy easy access to all that the lively city has to offer. Also within easy reach are Zantino Tailor, Bumrungrad International Hospital, Nana.
Check Rates | Agoda Check Rates | Booking.com
11. Niras Bankoc Cultural Hostel

Decorated with vintage teak floors and Thai wall paintings, the cozy private rooms come with en-suite, minifridges. cheapest and Best Hostels in Bangkok
Check Rates | Agoda Check Rates | Booking.com
[SEE ALSO: Luxury Resorts in Thailand Perfect for Couples and Honeymooners]
12. Siamaze Hostel

Featuring private balconies and en-suite bathrooms, the minimalist rooms come with free Wi-Fi and flat-screen TVs, and bunk beds.
Check Rates | Agoda Check Rates | Booking.com
13. Once Again Hostel

Featuring built-in bunk beds with wood paneling and privacy curtains, the streamlined mixed and female-only dorms sleep up to 12 guests. cheapest and Best Hostels in Bangkok
Check Rates | Agoda Check Rates | Booking
14. d HOSTEL BANGKOK

Simple mixed dorms offer 4 to 6 bunk beds and come with free Wi-Fi, lockers, individual reading lights and linens.
Check Rates | Agoda Check Rates | Booking.com
15. Boxpackers Hostel

Streamlined mixed and female-only dorms sleeping up to 12 guests feature capsule-style beds with free Wi-Fi, linens, and lockers.
Check Rates | Agoda Check Rates | Booking.com
---
[hoops name="InArticle"]