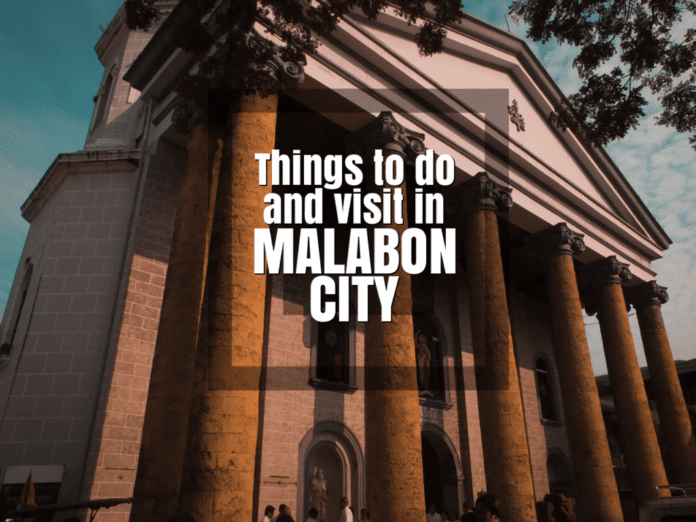 Malabon City is not new to our ears. We know its location, its demographics, but what we don't know, Malabon is full of history and culture. Malabon City is one of the cities in Metro Manila with truly rich emerging destinations.  Things to Do in Malabon
We recently visited those destinations together with other bloggers and the Department of Tourism. Also with us are the DOT Secretary Wanda Teo, Asst. Secretary Frederick Alegre, and Mayor Antolin Oreta III.
1. Visit San Bartolome Church 
Things to Do in Malabon

San Bartolome Church is a Roman Catholic church located in Poblacion, Malabon. The church's eponymous is Malabon's patron saint, Saint Bartholomew the Apostle whose feast day falls on every 24th day of August.
A former visitor of Tondo, Malabon was established on May 21, 1599. In 1614, it became an independent parish, with Father Luis Gutierrez as vicar prior. When Father Diego de Robles became prior of Malabon in 1621, he began the construction of the first stone church a year after.
A simple yet elegant retablo can be found in the chancel where the icon of Saint Bartholomew the Apostle is surrounded by the image of the Blessed Virgin Mary above, the tabernacle below, and St. Augustine and St. Nicholas de Tolentine on both sides. Things to Do in Malabon
During World War II, San Bartolome Church endured heavy damages and restoration began only in 1951 under the secular priest Father Trinidad. San Bartolome Church now has seven bells, two of which are devoted to Santa Rita and one to San Bartolome, the patron saint.
2. Visit Immaculada Concepcion De Malabon Church

It is a small Church, but interiors are well kept and beautiful. The image of Immaculate Conception of this church is one of the few Marian images in the Philippines that is canonically crowned. This church is always an option for weddings because of it's beautifully crafted design.
Immaculada Concepcion De Malabon Church was established by Augustine priests. It was made of rocks during the 1866 but has been destroyed by an earthquake in 1880. It has been used by the Iglesia Filipino Indipendiente as their church.
3. Visit the Sy Juco House/Mansion

If you love heritage houses, then this one is a must-visit. The Sy Juco House was built in 1869, used as a school, a tobacco factory, and a private home for a Swiss-Filipino family. This home was spared from the war because the Swiss flag flew conspicuously at the window during the years of Japanese occupation. The original parts of the house remain to this day. Things to Do in Malabon
Truly, a must-visit if you are looking for ancestral houses built during the Spanish Era.
4. Visit the Ibaviosa House and the Patis Factory

The Ibaviosa House was originally made of bamboo and nipa. It was completed in the early 1940s. This pre-war ancestral house owned by the Ibaviosas was said to have seen and endured the Filipino-Japanese war.
Beside the house is their Patis Factory. The Ibaviosas are also known for their successful product, Malabon Patis. These heritage houses can be toured via the adult tricycle tour. See rates below.
5. Visit Angel Cacnio Gallery

This gallery and home hold the best collection of Angel Cacnio's creativity works, sculptures, and best paintings, not only by him but also from his sons and other paintings of Malabon artists collected by his wife. Angel Cacnio was a recipient of numerous citations due to his art legacies including the design of our 100 and 20 pesos bills. Things to Do in Malabon
6. The Best Lugaw Experience at Malabon

One of the best tasting lugaw in Malabon. It was owned by Narcisa Domondon Pangan since 1984. Her legacy of the best tasting lugaw was inherited by her son Renante. Up until today, they have the same taste and quality of food being served to every customer. The store is located just across the Ibaviosa House.
Every morning, the store is filled with customers ordering their lugaw as they have found that Narcisa's lugaw is the best and its taste never fades.
7. Visit and buy at Dolor's Kakanin

Dolor's Kakanin has long been established since 1930. With more than 80 years of serving puto, kutsinta, sapin-sapin, and few more rice cakes and other delicacies, Dolor's Kakanin is the best in terms of quality and taste.
All these could be visited manually or thru booking Malabon's Tricycle Tour. We prefer the latter as Malabon City and big and could get you lost. All their tricycle drivers in the tour are well-trained to the places and could serve as your tour guides too.  Things to Do in Malabon
Here are the current rates for Malabon Tricycle Tour:
Package A:

HERITAGE TOUR – P250.00 [$5] per person

You will be going to the following destinations:
• San Bartolome Church
• Sy Juco Mansion
•  Nepomuceno Ancestral House
• Concepcion Market and Plaza
• Artes de Paseo Art Gallery
• El Casa Katipunero
• Ibaviosa Ancestral House
• Angel Cacnio Art Gallery
• Rivera Ancestral House
• Raymundo Ancestral House
PACKAGE B:

FOOD TRIP SPECIAL tour – P750.00 [$15] per person

You will be going to the following destinations:
• San Bartolome Church
• Lugaw Experience
• Hazel's Puto
• Jamico's Restaurant
• Dolor's Kakanin
• Concepcion Market and Plaza
• Nanay's Pancit Malabon
• Betsy's Cake Center
PACKAGE C:

FOOD AND HERITAGE TOUR – P900.00 [$18] per person

You will be going to the following destinations:
• San Bartolome Church
• Sy Juco Mansion
• Nepomuceno Ancestral House
• Concepcion Market and Plaza
• El Casa Katipunero
• Ibaviosa Ancestral House
• Angel Cacnio Art Gallery
• Rivera Ancestral House
• Raymundo Ancestral House
• Lugaw Experience
• Hazel's Puto and Puto Pao
• Jamico's Restaurant
• Dolor's Kakanin
• Nanay's Pancit Malabon
• Betsy's Cake Center
To book / tour reservations, visit or call Malabon Tourism at:
Malabon City Tourism and Cultural Affairs Office
9th floor, Malabon City Hall, F. Sevilla Blvd. Malabon City
(02) 281 4999 local 1003 / 0921-5132409 / 09260454562
Email: [email protected]
FB Page: Malabon Tourism
---