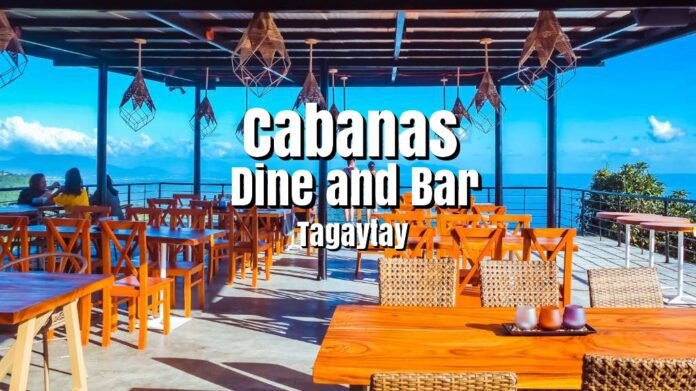 There's so much to do in Tagaytay and every single time, there is a new establishment being put up. We've been to one of those new establishments, the Cabanas Dine and Bar.
Cabanas Dine and Bar just recently opened and is already garnering an amount of attention on social media being the talk of the town. It's because not only the location was great but also the food they serve is quite adorable. It has one of the perfect backdrops for your picture as the Taal Volcano and Taal Lake can be seen from its restaurant, claiming as one of the most Instagrammable spots in Tagaytay.
Now, if you haven't been to Cabanas Dine and Bar in Tagaytay yet, you should go ASAP. They still are on soft opening until now as they are still doing additional constructions on the site.
Cabanas Dine and Bar
Let the photos speak for themselves!
Cabanas Dine and Bar Menu
Cabanas Bulalo
Bagnet Sisig
Bam I
Fruit Fritters
Ginataang Halo-Halo
Honey Barbeque Chicken Wings
Bagnet Pinakbet
Shrimp Pomodoro
4 Ways Cheesecake

These are just some of the food we were able to order during our visit and we are so full!
Aside from sumptuous dishes, Cabanas Dine and Bar also serves cocktails and beer towers just enough for your friends to enjoy and get tipsy!
The best time to visit the restaurant is from 5 pm 'till evening. You will enjoy the sunset plus the cold breeze. Make sure to bring your jackets as it tends to be really cold in the venue.
Take a quick look at our gallery!





What are you waiting for? Tell your friends and head on to the newest 'where to go' in town!
Cabanas Dine and Bar

cabanas tagaytay
9034 Tagaytay-Nasugbu Rd.
Silang Junction South

Tagaytay City

FB Page: https://www.facebook.com/pg/cabanastagaytay/

WHAT TO READ NEXT
La Bella Tagaytay: Santorini-Inspired Hotel in Tagaytay
Experience Wildlife at ZooRI: Zoo at Residence Inn in Tagaytay
Motorbike Ride Guide: From the Cold Winds of Tagaytay to the Blue Beaches of Batangas
10 Quick Getaways Near Metro Manila You Shouldn't Miss