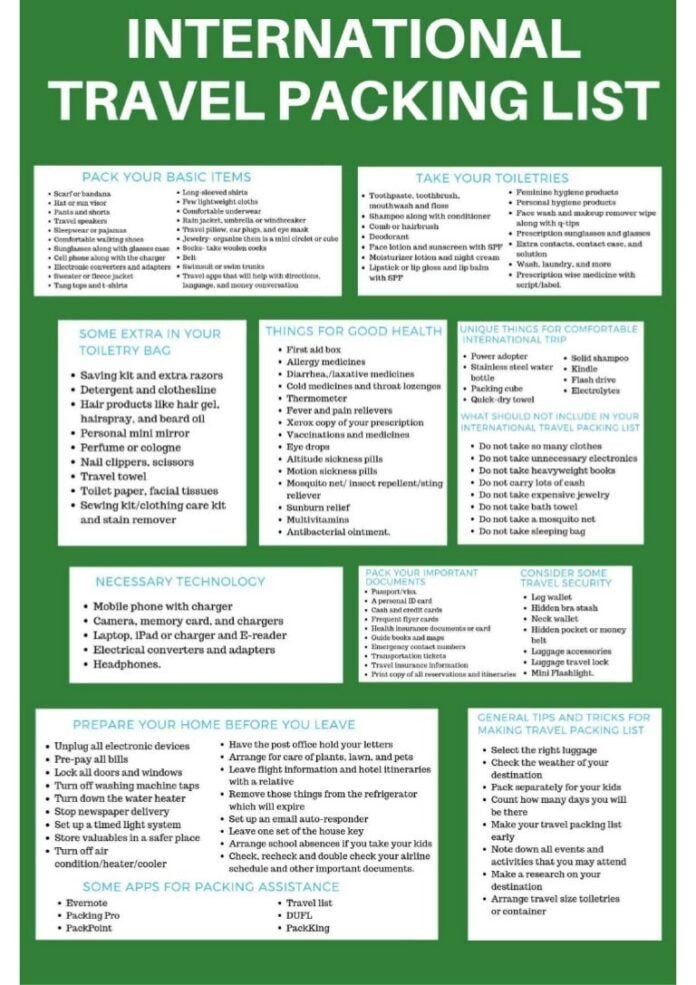 Traveling locally is different from flying overseas as you can encounter a number of problems along the way. From the unpredictable weather conditions to completely different outlets for gadgets, proper packing is essential.
This is why it's important to create a travel packing list to ensure you have something in case of an emergency or any precedented circumstances. Depending on the destination, duration of the trip, and weather condition, you need to curate the number of things you'll bring.
In this article, we're tackling the best system when it comes to packing for an international trip. Because it's important to travel light and carry the essentials, we'll be touching on the top things to bring with you on every overseas trip.
Non-Negotiable Packing Items
First, we want to tackle the non-negotiable items for every trip. This is in addition to health and travel insurance, as these things are always a must. What we're talking about here is a reliable carry-on bag and luggage to keep your items safe and sound.
Find a bag that fits all the essential items you'll be bringing for the trip. Keep in mind that packing won't be successful if you lack the space for all your items.
With this, consider getting spacious luggage and a light carry-on for easy access to some essentials.
Invest in heavy-duty bags and luggage because these will undergo a lot during the trip. Get something with a number of compartments to separate different items on the luggage or bag.
Packing List for Overseas Travel
Now, we go to the content of the bag, which is the most important thing. Here's a rundown of the things you should prioritize when packing.
Clothing
First on the list are clothes and garments. Travelers need to check the weather condition of the destination to plan carefully what to pack for the trip.
If the location has humid or dry weather, pack light clothing and comfortable walking shoes.
The reason why you want to prioritize clothing is that you want to be comfortable during the international trip. Buying clothes is possible, but this isn't practical. If you have nice clothing at home, then pack some and use it for the trip.
Get lightweight clothing that can be easily layered, fleece jacket, pants or shorts, rain jacket or windbreaker, some sleepwear, underwear, socks, and belt.
Toiletries
Next is the hygiene kit that you need to clean your body. Start with the essentials like toothbrush, toothpaste, facial cleanser, body wash, lotion, sunscreen, deodorant, and some cologne.
For guys, always carry a shaving kit for a clean look whenever you go. Girls need to always prepare tampons and sanitary napkins to have something when you get their period during the trip.
Don't forget the hand sanitizer, disinfecting wipes, and hydrating lotion.
First-Aid Kit
In making your packing list, never forget to include a first-aid kit and medicines. Anticipate for the worst and pack some pills for migraine, stomach issues, fever, colds, and allergies.
At the end of the day, you want to have something to relieve common issues like headache, stomachache, and probably colds and running nose.
Extra Shoes
Pack at least two shoes for the trip because you'll never know when you need one. Because of the long walks and some adventures, your shoes can be ruined.
Now, travelers would want extra shoes to save money.
Travel Accessories
Always bring some accessories for the trip, including sunglasses, visors or hats, scarves, travel pillow, earplugs, eye mask, and reusable water bottle.
These things are helpful to endure the weather and be comfortable during the flight and the trip itself.
Gadgets
Also, don't forget your gadgets when traveling. In addition to your mobile phone and laptop, don't forget to carry a handy speaker, chargers, portable power bank, adapters, and electric converters.
The adapter and electric converters are important to use different outlets in the hotel. A universal adapter kit is a must for any traveler, especially frequent international travelers.
Conclusion
It's not hard to prepare an international travel packing list, as you can always determine what's essential and not. What's important is to prioritize some items that can help you be comfortable during the trip and avoid spending more money.
Check out the packing list guide above to find out what things you should carry with you for an overseas trip. Packing correctly will reduce stress while you travel and make everything a lot easier.