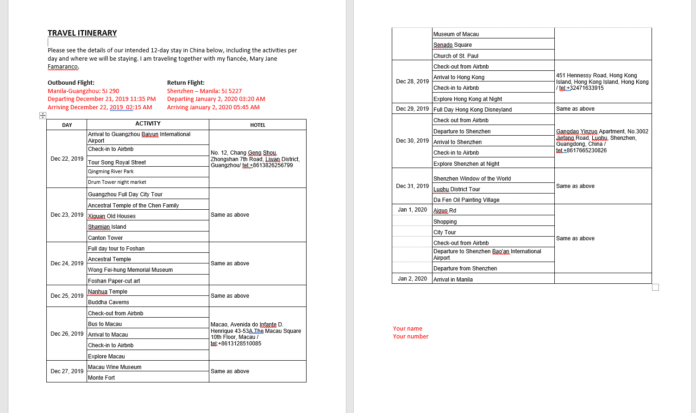 A seat sale happened and we were able to cheap (by that, I mean really cheap) tickets to China. The first plan was just Guangzhou but saw an opportunity to book for another flight but for another destination in China which happened to be Shenzhen.
Do you know just how much our tickets cost? Just PHP 3,571.58 and it's good for two people already. Super good deal I must say so we booked right away.
The thing is, for Filipinos traveling to China, a visa is required and you cannot enter without one. You have to secure visas before you go to their country or else you'll get held off by the immigration officers.

How to Apply for China Visa [with No ITR] + Requirements
If you are a person who is working for an employer or someone who owns a business, visa requirements to China is will be an easy process for you.
If you are a freelancer (like us) and do not possess an ITR yet, then this guide could help you with your visa process. This could also apply to the following:
Below taxable wage earners
Newly-owned business owners
Freelancers
Home-based Workers (whose employers are from abroad)
Other who not have ITR
Let's take a look at the requirements first assuming you are applying for the first time.
CHINA TOURIST VISA REQUIREMENTS (If company employed or a business owner)
Original Passport and Photocopy of Passport (front and back pages)
Application Form
Two (2) recent photos for China Visa
Flight Tickets
Travel Itinerary
Hotel Reservation
Invitation Letter (only if invited by sponsor)
Bank Certificate with statement for 6 months and official receipt
ITR (Income Tax Return) – BIR stamped
Certificate of Employment (if employed)
Business Registration Certificate (if business owner)
Valid IDs (PRC ID/Student ID, etc) – Photocopy
CHINA TOURIST VISA REQUIREMENTS (No ITR, Freelancers/Home-Based workers, etc)
Original Passport and Photocopy of Passport (front and back pages)
Application Form
Two (2) recent photos for China Visa
Flight Tickets (optional)
Travel Itinerary
Hotel Reservation (optional)
Bank Certificate with statement for 6 months and official receipt
Explanation Letter (No ITR)
Valid IDs (PRC ID/Student ID, etc) – Photocopy
Original Passport and Photocopy of Passport
This is your primary document and should not be expiring within 6 months period. You will automatically be rejected to fly if your passport is near to expiration. You also need to photocopy (1 copy) the front and back pages of your passport.
Upon application, bring and submit your OLD PASSPORT too.
Application Form
You will have to fill-up an application form and make sure that you know the category of visa you are applying for. For tourists, that L visa (or category L). The form should be COMPUTERIZED and PRINTED. Use only CAPITAL LETTERS. If you don't have anything to write on the form, type N/A or None. Your signature is the only pen ink in the form.
Two (2) Recent Photos for China Visa
In your form, you will need to abide by the size requirement and the photo must be taken at least 6 months prior to application. Again, check the size requirement stated in the form.
Flight Tickets
This is not necessary but is a good addition to your application. Make sure that you will have a return flight ticket back to the Philippines.
Travel Itinerary
This is also a requirement when applying for a visa. They would like to know what places are you visiting or where you will be going. This can be just an assumed itinerary and can be not very detailed but put the dates and the places you will be visiting.
See our sample below. You may copy the format and make sure to indicate your flight arrival and departure.

Hotel Reservation
This is also optional like flight tickets. Also a good addition to your application. We booked our accommodation via Airbnb because hotel rates tend to be higher during the holiday season.
If you want to get as much as Php 2200 discount on your first Airbnb booking, register via this link.
Bank Certificate with statement for 6 months and official receipt
You can request this to your bank (usually home branch account where you filed for the bank account). Ours is from PSBank. I also submitted our BDO credit card statement for 6 months. This could be done within a day.
I paid for two bank documents, Bank Certificate and Bank Statement (for 6 months). Yes, they are separate documents.
You will need to present this since you will not be able to present an ITR. They would need to know how much money you have or how much money you could spend while you are away. According to other guides out there, you money should at least be 5,000 – 10,000 per day. Example, if you are staying for 10 days, that's 10,000 PHP x 10 (days) = 100,000.
I'm not an expert on this one but the safest bet is to have an account with above P50,000 for at least 3 days stay.
Explanation Letter (No ITR)
Since you will not be submitting any other financial documents except your Bank Certificate and Bank Statement, you will need to create a letter and explain to them why you are unable to provide an ITR and what is your purpose of traveling. Add places you have been (overseas) so they could be assured you are only traveling for leisure/vacation and not going to stay long and TNT on their country.
See our letters below. These are our actual letter. You may copy it but please try to change other words and details especially those marked in RED. Pertain to your own reason why you want to visit China but cannot submit ITR.
---
DATE OF APPLICATION
Embassy of the People's Republic of China
in the Republic of the Philippines
2nd Floor, the World Center,
330 Sen. Gil J. Puyat Avenue,
Makati City, Metro Manila
Dear Sir/Madam,
Good day!
My name is YOUR NAME, a resident of the Philippines, with Passport number (your passport number), and currently doing freelance work as a Travel Blogger. I am writing to request for approval of our China Tourist Visa (double entry) for our upcoming visit.
Me and my fiancée, Mary Jane Famaranco, are planning to travel to Guangzhou, Macau, Hong Kong and Shenzhen (with Guangzhou being our entry point and Shenzhen for our exit point) this coming December 21, 2019 until January 2, 2020. We would like to spend Christmas and New Year on both cities of China with travel in between to Macau and HK, and also to experience the culture and Chinese events for the said dates.
Part of the application is to present an ITR which apparently, I don't have yet. However, we have traveled to Sapporo (Japan), Bali (Indonesia), Cambodia and Vietnam over the span of 12 months and to prove my financial capacity, I have provided herewith our bank statement and financial documents. Our plane tickets and accommodation details are also attached for your reference.
I am earning mainly through freelancing and doing work online. We document our experiences and whereabouts on our travel website https://twobudgettravelers.com.
Rest assured that we are financially capable to travel to China and nearby countries and that we won't be a burden to the country during our stay. I also provided my fiancée a supplementary cardholder of my credit card so we can share for expenses during the trip if necessary.
I am really hoping to have our tourist visa granted so we can share our experiences during our visit to China through our blog. Thank you.
Sincerely,
Jerny Destacamento
---
VALID IDs
Not necessary but it's our practice to also submit a photocopy of our valid identification cards when applying for a visa.
CHINA VISA FEE
If you are only going to fly in and out once, apply for Single Entry (1400 PHP).
If you are going to fly into China and visit other countries (Macau/Hong Kong) and fly out of China again, you will need a Double-Entry Visa (2100 PHP). This is what we applied for since our itinerary is Guangzhou (in) – Macau – Hong Kong – Shenzhen (out).
If you are going to fly multiple times to China for 6 months, apply for Multiple Entry Visa (2800 PHP).
If you are to fly multiple times to China for over 6 months, apply for Multiple Entry Visa (over 6 months) – (4200 PHP)
Normally, if it's your first time to visit China, Single Entry or Double-Entry is your type of application. Rarely, multiple entry application is approved for first-timers.
VISA RELEASE
After submitting your application to the embassy, you will have to wait for 3 – 4 working days (holidays not included) for the release of your visa. No payment will be made when you submit your requirements. Payment shall only be made on the release date of your visa – and you will have to pay whether your application is approved or denied.
CHINA VISA APPLICATION PROCESS
After you have completed your requirements, it's time to pay a visit to the Chinese Embassy in the Philippines. Remember that they only accept visa applicants from 9 am to 11 am. Beyond the time frame, you will need to come back tomorrow.
Address: 2nd floor, The World Center, Sen. Gil J. Puyat Ave, Makati City
This is near the DOT Manila Office and SSS/PHILHEALTH offices.
Scan your bags.
Get your number from the front desk. Tell her you will submit your application.
Wait until your number is displayed in either window 5 or 6.
Submit your requirements. They will let you know if you miss anything. If everything is good, they will give you a piece of paper with the release date in it. Usually, the result will be available in 3-4 working days. Remember that the payment will be made only at the release date (Manila only).
Assuming it's your visa release date, tell the front desk again you are visiting for visa release. They will give you a number or will ask you to fall in line for the cashier.
Present the paper provided previously. Pay for the visa fee and they will give you a receipt.
Fall in line for the release window and present the receipt. You will then know your application result if your visa is approved or not.
DENIED VISA
Yes, there are cases of denied visas. However, they don't really provide any information about why your visa is denied (I'm not sure if they do). You cannot refund the amount you paid, but you can make an appeal or reapply for another visa application. However, that would be another payment on your side.
OUR DOUBLE ENTRY VISAS ARE APPROVED
Yes, that's why we wrote this guide to help you with your application too. We actually are not that excited about this China trip so we are really not anxious about whether our application will be accepted or not. We just let it be and let God. Fortunately, we are in good hands.
We ran into troubles as well from Clark Airport until Guangzhou Airport and even when we came back. But our travel in China, Macau and Hong Kong went smooth.
You can read our mishaps here (in 3 parts).
Part 1: A TRAVEL ANGEL SAVED US
Part 2: SLEEP AT THE AIRPORT AND BRING ENOUGH CASH
Part 3: APPRECIATION POST
Here are some of our posts during our travel:
Guangzhou, China Part 1
Guangzhou, China Part 2
-will update soon
WIFI FOR CHINA TRAVEL
There also are many WiFi spots in China. However, you can only connect if you can understand Chinese. So we opted to rent our own from the Philippines. For our travels, we highly recommend BIG SKY NATION as your source for travel wifi. We have been using it since 2018 so we know how it works and what it is capable of.
You can use our code: THEJERNY for an extra 15% off on all their services.
You also would need to download VPN app (Virtual Private Network) because China has its own social media. Other sites like Facebook are blocked from their network, nationwide. We recommend Express VPN (make sure you have valid data to connect). Choose Hong Kong, Singapore or Japan as your country location.
We also got to use CherryRoam (pocket wifi) for our China trip. We found it to be a reliable WiFi source as well as it already has a VPN installed. Just power it on and go. You can rent through their website and choose China with VPN package. Sadly, we have no code yet for CherryRoam but will update this post once we do have one.

If you have any questions, please feel free to send us a message at our facebook page or click this link: m.me/thejerny
READ OUR OTHER VISA GUIDES: