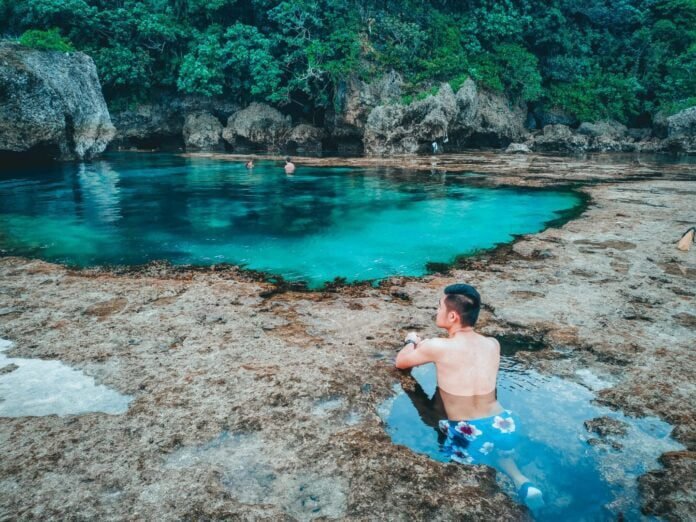 Siargao Travel Guide: Getting to Siargao via Butuan
You know it and you've seen it. Siargao probably has taken the online world by storm thru social media and it is in the news getting the number one spot in the best islands in the world. Siargao truly is one heck of a gem in the Philippines, beach lovers love it, adventure seekers find it, and surfers totally crushing the waves in this little island in Surigao. But how do you get to Siargao? to siargao via butuan

How to Go to Siargao via Butuan City
Thru an online app we used to check for tickets (check SkyScanner), we were able to score a cheap flight ticket to one of the nearest airports to go to Siargao and it is Butuan City. After countless research from online travel guides, I was able to at least draft an itinerary on how to go to Siargao via Butuan City, and in this guide, thru our experience.
From Butuan Airport (Bancasi Airport):

If you are directly going to Surigao Port from Bancasi Airport, you do not need to go to the integrated terminal in Butuan City just to get to Surigao. Just outside the airport, you will find vans heading to Surigao City. The van costs Php 250 ($5) and will take about roughly 2.5 hrs to 3.5 hrs.
Sometimes they would ask you to add a small amount to get you directly to the port heading to Dapa or Dapa Port in Siargao Island and this can greatly save you time. This is what we did.
If you happen to have decided to stop at Surigao City, you would need to ride another one, a multicab or a tricycle. Multicab costs only Php 9 or 10 to get you to the port while tricycles tend to charge higher. Ask them to drop you off at the Macapagal Port.
We arrived by 6:00 AM at the Bancasi Airport, took the van at 6:30 AM, and was dropped off at around 9:30 AM in Surigao Port. We ate for a few minutes and then asked for the nearest schedule of the boat going to Siargao (Dapa Port).
At Surigao Port (Macapagal Port):
Plenty of boat schedules are heading to Dapa Port every day and I think they have added new schedules since the influx of tourists. Here's the current boat schedule to and from Siargao Island from Surigao City. to siargao via butuan


We opted for the nearest departure time, 10:30 AM via Atlantis Yohan Express and booked Tourist Class for Php 320 each. The travel time is around 2-3 hours from Macapagal Port (Surigao) to Dapa Port (Siargao).
We had a very comfortable time at Atlantis Yohan Express as the Tourist Class is an air-conditioned area with comfy seats and has a television playing movies. Not long after we departed from Surigao Port, we all went to sleep because apparently, the early morning departure from Manila and the ride to Surigao city was exhausting.
At 1:00 PM, we have safely arrived at Dapa Port (Siargao Island). Outside the port, we were approached by local drivers to take their service going to our accommodation at a fixed rate. A tricycle driver told us that going to General Luna will only be at Php 40 each, while a multicab driver told us that he'll be charging at Php 50 each, so we opted for the cheaper ones, the tricycle.
After 30-40 mins, we have arrived in General Luna and checked-in to our accommodation. We opted to use Airbnb for our first three (3) nights and is located just beside Isla Cabana resort and Kawili resort. to siargao via butuan
REMINDER: Just so you have an idea about how much the regular ride/transportation in General Luna is (habal-habal or tricycle), here's a price guide. Php 20 each during the daytime, and about Php 30 to 50 each during night time (8 PM onwards). Yes, it's quite expensive especially if you will go from one place to another every day or every night.
If you want to know our itinerary, check this guide (writing soon).
As for the Travel Agency that catered our tour in Siargao, please contact GotMarked Tours. We had a hassle-free tour with them! Highly recommended.
Going to Butuan City from Siargao:
Our friends left Siargao two days earlier than us because we extended wanting to explore more of the island and also to visit some sights in Butuan City.
From our accommodation in Cloud 9, we rode a tricycle heading to the terminal to Dapa port and costs Php 20 each. Tell the driver "Terminal para Dapa" and they'll drop you off at the spot. We departed at 9:00 AM.
From the terminal, it costs about Php 40 each from General Luna (terminal) to Dapa Port and will take about 30-40mins depending on the pace. We have arrived in the port at around 10 AM. to siargao via butuan
If you want to go directly from General Luna to Dapa Port, we asked a trusted tricycle driver and he said it will be Php 250 good for four people. Since we are only two (Jane and I), we opted to commute as it will be the cheaper option.
As we asked around, the next schedule from Dapa Port to Surigao Port was 11:30 AM, again via Atlantis Yohan Express so we took the Tourist Class (Php 320 each) as we really have found it to be a comfortable setting for us, airconditioned and comfy seating.
The boat departed at 11:30 AM as scheduled and arrived in Surigao Port at 1:45 PM.
From Surigao Port to Butuan City:
We asked around how much would it be if we are to head directly from Surigao Port to the bus terminal heading to Butuan, and one tricycle driver said it would be Php 300, so instantly, that's a "no" for us. He haggled for Php 200, but we refused to take his service. So we just opted to head to nearby carinderia for lunch.
We then asked people around and said that we could take the multicab to get to Gaisano Terminal – and it was only just Php 10 each. Imagine if we took that Php 200 offer from the tricycle driver.
There are multicabs waiting outside the Macapagal Port so it was easy, we just asked the driver to drop us off at Gaisano Terminal in Surigao City (Php 10).


From Gaisano Terminal, you can opt for a bus or a van ride to Butuan City. We took the bus ride here thinking that it would be cheaper than the van. Well, it is, but not as much. The bus cost Php 226 while the vans cost Php 250 (if I'm not mistaken). We wished we took the van instead because it took us a freaking 4.5 hours from Surigao City to Butuan City. For just a fare difference of Php 24, we could have saved at least 1 to 1.5 hours of travel time from one city to another. to siargao via butuan
You will be dropped off at Robinson's Butuan, we arrived at 6:10 PM.
Note: Tell the driver or conductor if you need to stop to get to the airport.
So, to summarize this trip.
From Butuan City to Siargao Island:
6:30 AM: Depart from Bancasi Airport (Butuan City) to Macapagal Port (Surigao) [Php 250 each via van]
9:30 AM: Arrival in Macapagal Port (Surigao)
10:30 AM: Departure from Macapagal Port (Surigao) to Dapa Port (Siargao) [Php 320 each via Atlantis Yohan Express] + Php 10 (Terminal Fee)
1:00 PM: Arrival in Dapa Port (Siargao)
1:10 PM: Departure from Dapa Port (Siargao) to General Luna [Php 40 each via tricycle]
2:00 PM: Check-in to accommodation
From Siargao Island to Butuan City:
9:00 AM: Depart from hotel to Terminal (in General Luna) to Dapa Port [Php 20 each via tricycle]
9:20 AM: Depart from from General Luna to Dapa Port [Php 40 each via tricycle]
10:00 AM: Arrival in Dapa Port (Siargao)
11:30 AM: Depart from Dapa Port (Siargao) to Macapagal Port (Surigao) [Php 320 each via Atlantis Yohan Express] + Php 10 (Terminal Fee)
1:45 PM: Arrival in Macapagal Port (Surigao)
2:00 PM: Depart from Macapagal Port to Gaisano Terminal (Surigao City) [Php 10 each via multicab]
2:20 PM: Arrival in Gaisano Terminal via multicab
2:40 PM: Departure from Gaisano Terminal (Surigao City) to Butuan City [Php 226 each via bus]
6:10 PM: Arrival in Butuan City (Robinson's Terminal)
If you have questions, please drop it in the comments below.
WHAT TO EXPECT WHEN IN SIARGAO:
Hope these photos will get you excited to go to Siargao! Scroll for more.
WHAT TO READ NEXT