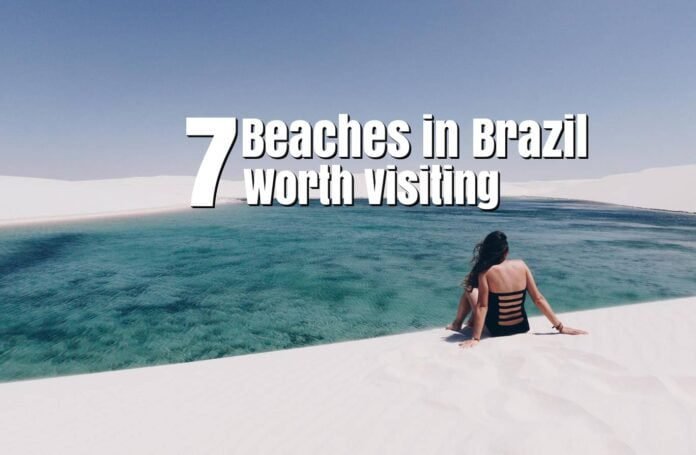 When you think about South America, you can never forget to go to the best beaches in Brazil. It's no surprise that this country is one of the most visited in the continent, not just because of the world cup craze and beautiful people, but also because of the amazing scenery and beaches they have.
People who have visited Brazil that gets to experience the culture and some of their arts often go back year after year. They just love the country. If you happen to need a visa in order to enter Brazil or other countries, there are visa services companies like Travel Visa Pro that can help you acquire one — hassle-free. After getting your visa, you can visit and enjoy the best beaches in Brazil.
7 Best Beaches in Brazil
Here are some of the best beaches in Brazil that you need to add to your bucket list.
1. Baia do Sancho

Located in Fernando de Noronha, this beach is always on the top lists of many travel magazines. Many say it's almost impossible to translate the beauty of this site into photographs. Everything, from the waves and the temperature of the water to the sand and the fauna and the birds flying over it, makes you feel like you are in paradise.
2. Baía dos Porcos

Still located in Fernando de Noronha aka the Bay of Pigs. According to travelers, the water is crystal clear in this beach making it a good place to relax and enjoy the area. The access to the seaside can be a bit tricky but worth it. More notably, this is one of the most stunning beaches in Brazil and around the world. You can see turtles, rays, and sharks.
3. Jeri Beach / Jericoacoara Beach

Located behind the hills of the west coast of Jijoca de Jericoacoara, Ceará, Brazil. The beach is spacious and is less crowded than most other beaches. The water is shallow so that you cant really swim here but most people come here for kite surfing. It's also one of the best spots for sunset chasing.

Imagine infinite fine white sand dunes with fresh translucent lagoons among it? This is Lençóis. It is like visiting another world entirely. The pristine waters of the dunes are amazing with sands as fine as table salt, it is truly an amazing panorama.  Mostly recommended for travelers who enjoy adventure and nature.
5. Lopes Mendes Beach

Located in Ilha Grande, Rio, Brazil. A beach with white, powdery sands, and turquoise seawater. The beach is stunning with good surf to play in and shade all along the back edge of the beach. Boats aren't allowed to anchor here thus you have to take a 15 min walk from a close by beach. To get to the beach, you need to hike from Abraao through the jungle for about 2 and a half hours. Best Beaches in Brazil
6. Copacabana Beach

You know that song, right? This is what the song is about. Located in the state of Rio de Janeiro, this has a long stretch of white fine sand beach with loads of bars too. People are selling souvenirs everywhere and full of Brazilian bronzed sun worshipers — this beach is one of the must-visit beaches in Rio.
7. Porto de Galinhas 
Best Beaches in Brazil

Located in Ipojuca, Pernambuco, this beach is consistently voted one of Brazil's best beaches thanks to its super crystal clear waters and natural rock pools. The beach is phenomenal and the natural pools are charming. To get to one of the pools, you need to hire a "jangada", a small sailboat with a guide to have a tour of this wonderful and unique biome.
There are quite a lot to add to this list but these are 7 of the best beaches that can be visited in Brazil. Which one is your favorite?  Best Beaches in Brazil
---
WHAT TO READ NEXT
CABONGAOAN BEACH + Death Pool | DIY Budget Travel Guide | How to Get There | Contacts
Tondol Beach in Anda, Pangasinan | Travel Guide 2018 | Rates | How to Get There
TALIPANAN BEACH: A Hidden Paradise in Puerto Galera
Talicud Island: Davao's Best Beach Destination